China's progress impresses visitors
Nearly 480,000 have seen display on nation's recent achievements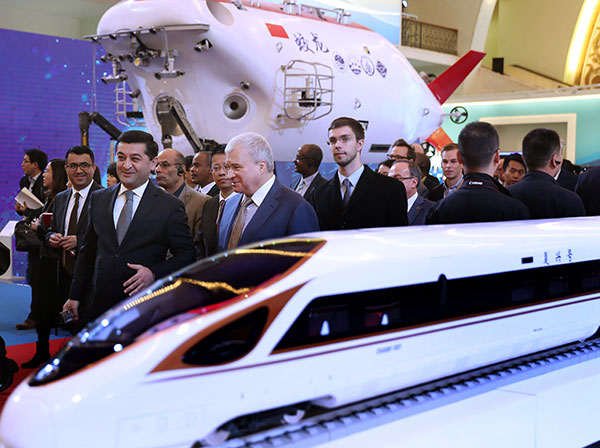 A group of foreign diplomats and foreign experts working in China visit an exhibition in Beijing on Friday showcasing China's achievements over the past five years. ZOU HONG/CHINA DAILY
Technological innovations such as models of China's manned submersible Jiaolong, bullet trains and interactive robots impressed foreign diplomats and experts working in Beijing who toured an exhibition in the Chinese capital on Friday.
"Judging from what has been done in the past five years, we can already say that the next five years are going to be even more successful," Rwandan Ambassador to China Charles Kayonga told China Daily.
The guests were invited to Beijing Exhibition Hall to have a closer look at China's recent achievements.
As of Friday, the exhibition, Five Years of Sheer Endeavor, had racked up a total of nearly 480,000 visitors since it opened on Sept 25.
Many residents have lined up for tickets to the display, which includes models of China's cutting-edge machinery and equipment that are rarely put on display.
It employs virtual reality technology as well as panoramic slideshows to enhance the experience.
"China is now becoming a country that's more of an innovator rather a country that relies on the technology of other nations, so that is a very good sign," said Edwin Maher, a visiting professor of journalism studies at the Communication University of China.
"It has been made very clear that China is very much leading in many, many sectors of world technologies and science," said Maher, who has been in China for 14 years and was once a news anchor on China Central Television's English Channel.
Around a decade ago, Maher was awarded the Friendship Award, the highest honor that a foreign expert or outstanding achiever can receive from the Chinese government.
"The huge telescope that's been opened and the continuing development of the high-speed train system are also some things I am very interested in," he added as he toured the displays.
Maher said that over the past year and a half, measures taken to improve the environment have really been felt in China, especially in Beijing.
Science and technology were only a small part of the exhibition, which features 10 themed zones, including economic progress, political reform, cultural development, environmental protection, Party discipline, diplomacy and military reform.
Uzbek Ambassador to China Bakhtiyor Saidov said that China has hosted of a range of major international events.
"China's diplomacy has made remarkable progress," he said.

Editor's picks