CPC delegate: Custom officer's dream of a stronger country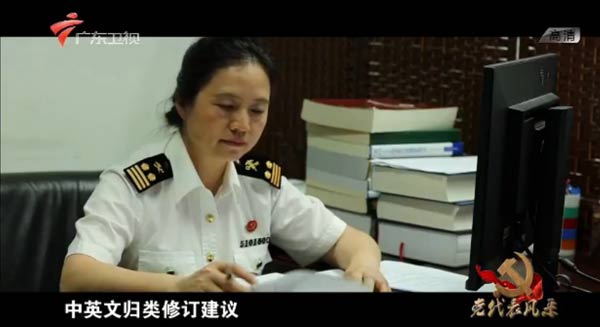 A screenshot from Guangdong TV shows Gan Lu at work.  
Editor's note: In the lead up to the 19th Communist Party of China National Congress, which begins on Oct 18, chinadaily.com.cn is focusing on delegates to the congress.
From a custom rookie to a senior official of the World Custom Organization, Gan Lu says her career development is mirrors of China's bigger and bigger role in world's custom field.
But things were different 17 years ago when Gan was transferred to civilian work from army. She felt like a fish out of water as she battled every custom term when she joined Guangzhou Custom.
A quick learner and diligent worker, Gan became a skilled member one year later and she was sent to the Guangzhou branch of import and export commodities classification center of China Custom before she became a custom officer representing China in setting the world custom rules.
From 2000 to now, she has been sent by China Custom to quite a number of missions covering research work in preparation of revising major custom regulations. One of her biggest contribution is her role in forming the nation's export and import commodities classification regulation.
After 2008, Gan started her international mission representing China, including more than 20 meetings at the World Custom Organization (WCO). Her extraordinary job won hearts of her international peers in 2014 when she was elected as head of a working group for Harmonized System (HS) of WCO and re-elected the next year. In 2016, she became the watchdog of HS committee of WCO.
The HS, also known as Harmonized Commodity Description and Coding System, is an internationally standardized system of names and numbers to classify traded products. The head role in a world trade policy-making organization boasts her country's growing influence in world trade.
As a CPC Party member of a Party conference delegate, she feels her burden even heavier.
She is a frequent attendee to the WCO headquarter in Brussels. With professionalism and fluent English, she has provided her country bigger and bigger voice in setting world trade rules.
From 2013, Gan led a working team formed by China Custom and International Bamboo and Rattan Organisation, INBAR, for a four-year research work before successfully proposing 10 sub-category bamboo and rattan commodities to the WCO.
She made another foray into the HS by adding the Chinese-made aerobridges into the list, ending the history of uphill struggle to international markets.
"Our job is to go deep into the rules to win power of speech," said Gan.
She witnessed the nation-wide campaign of customs integration, which was piloted in Guangzhou and helped facilitate enterprises in simplifying customs clearance from 2015. The reform saved 22.8 million yuan of customs clearance for enterprises in 2016.
Guangzhou Customs developed their own branded project - e-customs. The platform integrates the internet, post and customs to felicitate ordinary people in international post. Guangzhou Customs sent 240 million international packages in 2016.
As a delegate to the 19th CPC National Congress, Gan said membership means a completely new start for even harder work. "Gan Lu studio" will play a vital role in winning more advantage for Chinese enterprises and people in international trade.
"To be a CPC member means to believe in serving the people."