Acupuncture hospital returns to health, reviving techniques of 'needle master'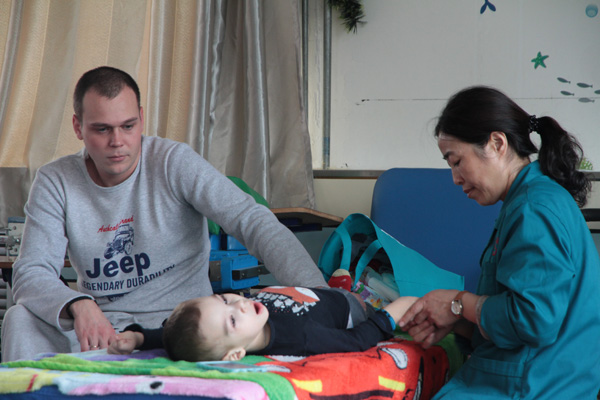 A foreign child with a brain disease receives scalp acupuncture treatment in Yuncheng, Shanxi province. [Photo/Provided to China Daily]
A tiny acupuncture hospital in Yuncheng, Shanxi province, almost escapes notice in a shady yard next to a bustling street market.
In the late 1970s, Jiao Shunfa, the hospital's former head, invented a method of scalp acupuncture to treat diseases of the brain and nerves. He had secretly studied classics of traditional Chinese medicine for nearly 10 years during the "cultural revolution" (1966-76).
Jiao was acclaimed as a "needle master" after he was said to have cured hundreds of patients at home and abroad. In 1986, his scalp acupuncture technique was recognized as a breakthrough in TCM by China's Ministry of Health.
Jiao had organized 56 training sessions by the early 1990s, mostly in the four-story hospital building. At least 1,000 doctors from about 50 countries had attended his classes.
But the hospital's profitability declined dramatically after Jiao retired in the late 1990s. Doctors attribute the decline to competition from Western medicine, as well as the poor management.
Xue Xiaomo, former head nurse at the hospital, said the decline was almost predictable.
"Jiao is a brand. The leading practitioner's reputation is the most important asset of the hospital. People just believe in him," Xue said.
Four years ago, the local government brought in Zhao Jiwei, a veteran neurologist, to revive the dying clinic.
"When I came here, wild grass had overgrown the yard. Almost all the doctors had quit," Zhao said.
But some foreign patients occasionally came for treatment after hearing Jiao's story, which strengthened Zhao's confidence that the hospital could be saved. He decided to focus the hospital on the treatment of cerebral palsy in children, while the neurology department would become the main breadwinner. He used his connections in the field to invite capable doctors.
Zhao borrowed money from friends while applying for government funding. The hospital was renovated and new equipment was purchased. He invited some of the old scalp acupuncture practitioners to come back.
Zhao spends most of the profits arranging further education and training for doctors and nurses.
Yang Xiao, deputy director of the hospital, said the expense is well worth it, as improvement in staff quality lays a solid foundation for increased revenues.
"That's why we can regain the trust of the foreign patients in a short time," Yang said.
B. Kurbanov, a 28-year-old Russian TCM practitioner, has played a key role in introducing 600 to 700 patients - mainly children suffering from cerebral palsy, from Russia, Central Asia and East Europe - to the hospital since 2013.
Fluent in Chinese, Kurbanov studied at Shanxi University of Chinese Medicine for five years and later became a TCM practitioner at a hospital in Yuncheng in 2011, where he learned scalp acupuncture techniques from Jiao's disciples, even though the hospital was in virtual bankruptcy.
After Zhao's arrival, Kurbanov easily joined in his efforts to revive it. Currently, there are 24 foreign children receiving cerebral palsy treatment in the hospital. And there are dozens of other foreign patients waiting to be admitted.
A father from Russia who has brought his 13-year-old son to the hospital eight times said: "There is acupuncture, massage, medicated baths and other kinds of physical therapy. The comprehensive use of these methods is effective. In Russia, one place usually has only one treatment method, and we have to travel from place to place for others. It is not convenient."
Zhao observed: "It is actually the value of TCM that attracts these foreign patients."
He added that the government should pay attention to protecting TCM - with top-level design and a development plan - as it deserves a place in ongoing medical reforms.

Editor's picks