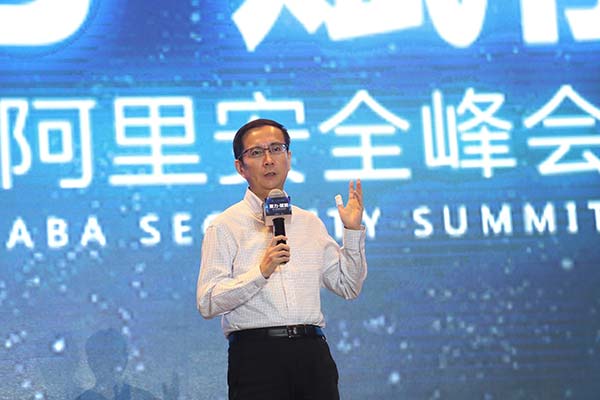 Zhang Yong, CEO of Alibaba Group Holding Ltd, speaks at the establishment ceremony of an e-commerce ecosystem security alliance in Hangzhou, Zhejiang province, July 13, 2016.[Provided to China Daily]
Alibaba Group Holding Ltd is gearing up to open up its information security technologies to other e-commerce players, as the online shopping giant sees the industry-wide data security market as the cornerstone for it to reach its goal of selling 6 trillion yuan ($896.8 billion) of goods on all its platforms in 2020.
New York-listed Alibaba announced in Beijing on Wednesday the setup of an e-commerce ecosystem security alliance, a group that is dedicated to improve the information security power of participants in the e-commerce industry.
Zhang Yong, chief executive officer of Alibaba, said that the group had accumulated rich experience and technologies in security over the past 17 years.
But Zhang added that the information security issue in the internet era could not be solved by a single player.
"Any security challenges faced by one company would become the threat for us all. So Alibaba will work harder to empower more partners with its security control technologies and make a contribution to safeguard the entire ecosystem," he said.
Liu Zhenfei, chief risk officer of Alibaba, said that web security had no boundaries because hundreds of millions of netizens used internet products and services whenever and wherever they want.
"If one platform leaks some information, it could damage the security of other platforms because the hackers will use the leaked data to try to figure out the passwords and login names to other accounts," he said.
Alibaba is providing information security products and standards to its partners in the alliance so that they can leverage the giant's cutting-edge risk detective model to examine and identify certain risks without investing a huge amount of money to develop it by themselves.
A recent report from the China Internet Network Information Center showed that there are nearly 700 million netizens in China and on average they spent 3.7 hours on the internet every day. The report found that internet-connected devices keep a massive amount of information, from bank account information to personal data.
Chinese netizens lost an estimated 91.5 billion yuan between July 2015 and June 2016 due to information leakage, spams and fraudulent information, said the report.