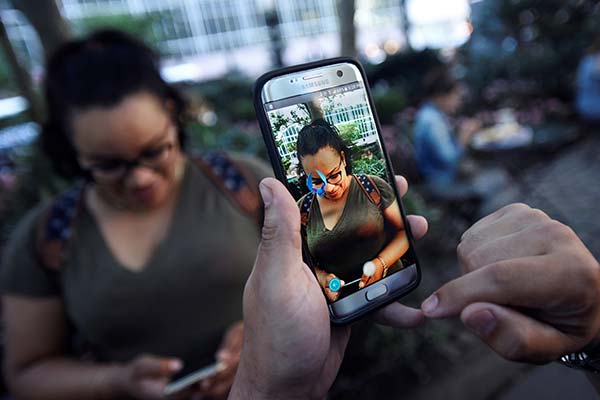 A Pokemon appears on the screen next to a woman, as a man plays the augmented reality mobile game Pokemon Go by Nintendo Co Ltd in Bryant Park, New York.[Photo/Agencies]
Pokemon Go, a mobile game that allows players to capture imaginary characters in real-life locations, has become a massive hit in China-even before it is officially released in the country.
The augmented reality game, which is available in Australia, New Zealand and the United States, went temporarily live for some hours in China on Monday and has since gone crazy with lucky hunters posting on their social networks all kinds of cute-looking Pokemons they find and capture in their bedrooms and in offices.
The wildly popular game has added $7.5 billion to the market value of its developer, Nintendo Co Ltd, since it debuted on July 6. But there is no official information about the game's international rollout, so creating opportunities for those who want to make some quick bucks on the Pokemon fever in China.
A Pokemon Go clone has quietly climbed on to the top free game list on China's iOS App Store. The game, named City Spirit Go, features a creature in the app icon that looks similar to a Pikachu. Though it isn't equipped with augmented reality technology, it is location-based, requiring players to move around in order to discover and capture the imaginary creatures-just like Pokemon Go.
The game is free to download, but to improve gamers' performances, there are many in-app purchases with the most expensive virtual diamond package costing $97. Most of the reviews are good with one commenting, "the game cannot be missed".
Apart from the knockoff game, on China's most popular online marketplace Taobao of Alibaba Group Holding Ltd, about 100 retailers have set up businesses to provide US- or Australian- or New Zealand-based Apple store accounts to help Chinese players download the game.
The fee for using such an account is between 0.3 yuan to 20 yuan and the best-selling store on Taobao has sold to more than 7,000 buyers.
However, downloading the game is merely the first step. The location-based game is not available in China, so it is not compatible with gamers who used a Chinese location.
"I've been using an app which can alter my location. So from the point of view of the server, I am playing it in the US," said Dong Meng, a postgraduate student who has been playing the game since it debuted on July 6.
Ma Si contributed to this story