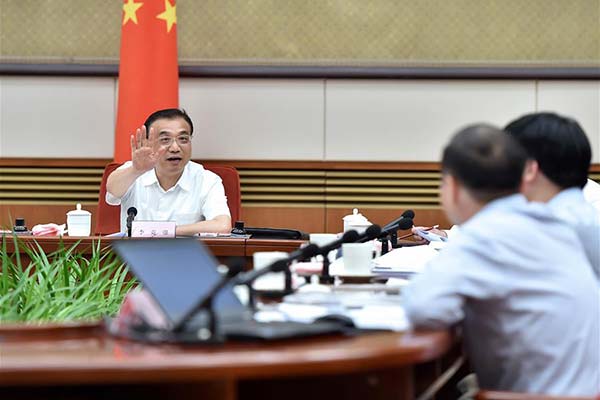 Chinese Premier Li Keqiang (L) presides over a symposium studying the current economic situation with experts and entrepreneurs, in Beijing, capital of China, July 12, 2016. [Photo/Xinhua]
Stable macroeconomic policies will boost the structural transformations and domestic demands that are now pillars of China's economy, Premier Li Keqiang said at a State Council meeting on Monday.
China's GDP increased by 6.7 percent year-on-year in the first quarter, which Li said surprised many foreign leaders.
Five speakers at the meeting agreed that consumption and the service sector have become important areas for growth. However, they also said that periodic and structural conflicts still exist and require a balance between economic growth and restructuring.
"Amid a sluggish world economy and global demand, domestic reforms and restructuring must keep the growth rate within a reasonable range, even though downward pressure still exists," the premier said.
Li expressed confidence in steady and healthy economic growth by promoting restructuring and keeping a sober mind about difficulties amid complex international and domestic conditions.
The premier said innovations must be promoted to boost market vitality. Meanwhile, potential must be unleashed for urbanization to enhance demand and strengthen infrastructure, such as flood control facilities, as well as fortifying the country's social security systems.
Li said new economic dynamics have supported employment by creating more jobs.
The first half-year saw 7.17 million new jobs created in urban areas, according to the Ministry of Human Resources and Social Security.
Guan Xiyou, chairman of the board of Shenyang Machinery Tool Co and one of the speakers, said the premier's remarks gave his company more confidence to focus on new business opportunities.