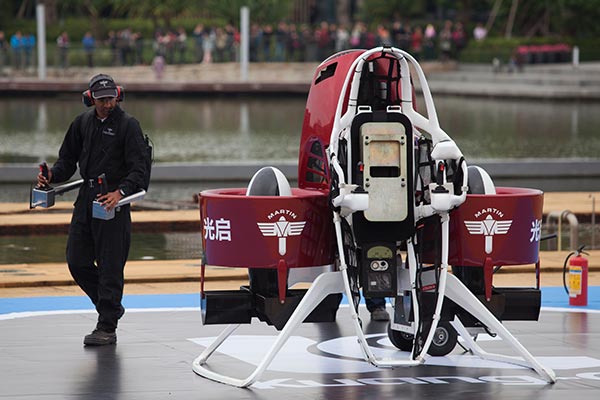 A Martin Jetpack, the world's first practical and commercial jetpack, which is developed by KuangChi Science, an innovative high-tech startup in Shenzhen, Guangdong province.[Provided to China Daily]
Shenzhen, the innovative city in southern China's Guangdong province, has received results from its enormous investment in some of the most cutting-edge technologies in the world.
KuangChi Science Ltd, an innovative high-tech startup in the city, has received 200 orders for its Martin Jetpack, the world's first practical and commercial jetpack, at the price of 2 million yuan ($308,640) each.
"Our buyers are from all over the world," said Zhang Yangyang, CEO of the company. "For example, a rescue team in Dubai ordered about 30 units because the jetpack is easier to operate than helicopters in a city full of skyscrapers."
The jetpack is powered by a gasoline engine driving twin ducted fans, which produce sufficient thrust to lift the aircraft and a pilot, and to enable sustained flight. It can operate close to or between buildings, near trees and in confined spaces that other aircraft are unable to access.
The jetpack can carry commercial payloads of up to 120 kilograms with a maximum flying time of 45 minutes at a speed of up to 80 km per hour.
The innovative aircraft is mainly produced in New Zealand, but Zhang told China Daily they will transfer the entire manufacturing process to China in the future.
The startup was established by five students who came back to China after studying abroad, said Zhang.
"In the beginning, almost everyone was very skeptical of the concept of the personal jetpack," Zhang said.
"It was Shenzhen's recognition that makes our technological development and research possible," Zhang added.
The team was brought into Shenzhen through "peacock campaign", a plan the Shenzhen Science and Technology Innovation Commission launched to attract tech talent.
The plan has played a key role in gearing up the city to develop into a key zone for innovation and the development of modern services in the region.
Since 2011, the commission has lured 64 "peacock" teams to the city, most of which have now grown into striking high-tech enterprises such as DJI Innovation Technology Co, KuangChi, Royole and BGI. These teams received government's financial support of tens of millions yuan each.
In addition, the plan is only one of the investments the city has made in promoting innovative and emerging industries. The city's R&D investment accounted for 4 percent of its GDP last year, which is about the same as of South Korea.
Shenzhen Mayor Xu Qin said the investment was important for the city's long-term economic development.