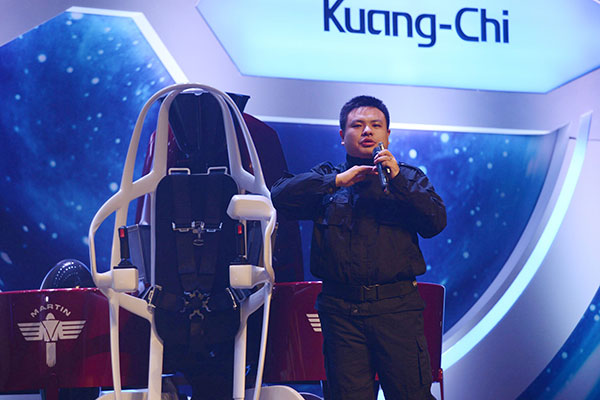 Liu Ruopeng, chairman of Kuang-Chi Science Ltd, presents the Kuang-Chi Martin Jetpack in Shenzhen, Guangdong province, on Monday. [Photo/China Daily]
Jetpacks, photonic technologies to lift city's tech capabilities
Innovation was in full flow in Shenzhen, Guangdong province on Monday as prospective inventors turned up in full force and showcased their products and technology at the ongoing KuangChi Global Innovators' Conference.
The main attraction at the event was undoubtedly the "The Martin Jetpack", an practical personal aircraft which uses a gasoline engine and two ducted fans for lifts. The jetpack is expected to open new vistas for flight enthusiasts in China after its formal debut in the city.
Made by New Zealand-based Martin Aircraft Co, it is modeled on the device used in the popular Iron Man movies. Priced at about 1.6 million yuan ($250,000) with a tagline of "Hello Future", the jetpack is expected to draw crowds with its innovative technology and ease of use.
To coincide with the debut of the product, a KuangChi Iron Man Club has also been set up to provide after-sales services, technical support, training and other comprehensive services.
The jetpack is, however, just one of the several innovative products that are on display.
An aerial station, named UFO U1, was also unveiled at the conference for the first time, promising to provide better solutions for urban maritime and surveillance, traffic control and live broadcasting.
Liu Ruopeng, chairman of Kuang-Chi Science Ltd, said: "It is a totally different concept from drones. Normal drones run just for 20 minutes, but our U1 can stay up for as long as 10 hours." According to Liu, the U1 is powered by hybrid energy instead of the conventional lithium battery found in other drones.
The company's technology, which they call "Alien Tech", also includes metamaterials, photonic technology, air platforms and manned space travel.
The metamaterials are materials engineered to have properties that have not yet been found in nature. The photonic technology uses light as transmitting media to realize authorization, identification and information transfer.
Liu said: "Our competitors are not just one company, but all innovative high-tech enterprises. We are dedicated to integrating all of our technologies and presenting the world with something that is yet to be seen."
For instance, the company combined metamaterials and photonic technologies to create Meta-Wi-Fi technology, which has won the bid for providing Wi-Fi services for the Bird's Nest stadium in Beijing for five years.