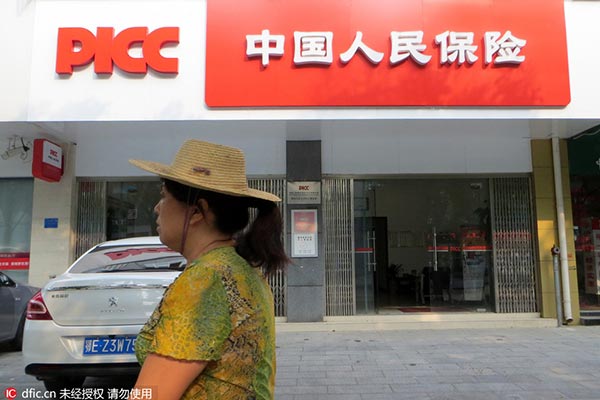 A pedestrian walks past a branch of People's Insurance Company of China (PICC) in Yichang, Hubei province, July 8, 2015.[Photo/IC]
Chinese insurers saw record growth in premium revenues in the first quarter but their profitability will likely be challenged by the slowing economy and the volatile capital market, the Chinese insurance regulator said on Tuesday.
Total premium revenues across the insurance industry rose to 1.19 trillion yuan ($184 billion) in the first quarter, an increase of 42.18 percent from the same period of last year, according to data from the China Insurance Regulatory Commission.
Life insurance business outperformed the property and auto insurance businesses, with their total premium revenues rising by 50.18 percent year-on-year to 845.9 billion yuan.
Bai Yun, an official at the CIRC, said that the more attractive rate of life insurance products than the bank deposit interest rate after the regulator liberalized the pricing mechanism for life insurers has helped drive up their premium revenues.
"The revenue growth has also been supported by the boom in sales through banking channels," he said at a news conference in Beijing.
Foreign insurers have also gained a greater presence in the Chinese market. Their premium revenues in the first quarter stood at 65.5 billion yuan, up by 71.68 percent year-on-year. Their market share expanded by 0.94 percentage point to 5.47 percent, according to the insurance regulator.
However, the insurance regulator forecast profit decline for the Chinese insurers in the first quarter amid a slowing economy and a volatile capital market.
The regulator estimated that the total profits of the Chinese insurers will drop by 55.29 percent to 38.9 billion yuan in the first quarter from the same period of last year. Life insurers, in particular, will likely suffer a profit decline of as much as 72.56 percent.
Wang Guojun, an insurance professor at the University of International Business and Economics, said that the volatile capital market will have a negative impact on the insurers' investment returns.
"It is normal to see insurers' profits under pressure when the capital market does not perform well. The decline has also to do with the high base last year when the stock market was surging," he said.
Total investment returns of the Chinese insurers in the equities markets dropped by 100.5 billion yuan from the beginning of the year, according to the insurance regulator. The average rate of investment return stood at 1.2 percent in the first quarter, down from the 2.23 percent in the same period of last year.
In March, global credit rating agency Moody's Investors Service Inc changed the outlook for China's life insurance industry from stable to negative, noting that the Chinese life insurers' profitability and capitalization will weaken against the backdrop of weaker macroeconomic conditions and falling interest rates.