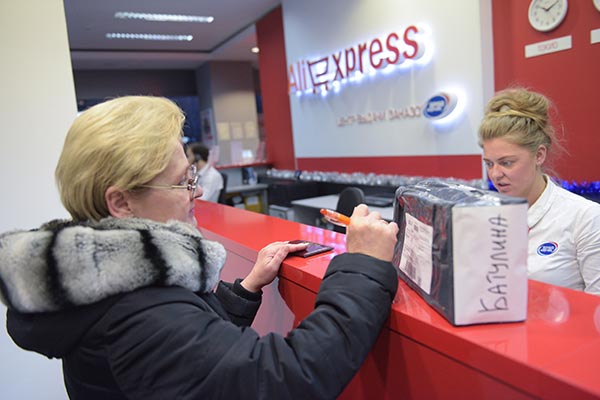 A shopper picks up her online order at an AliExpress station in Moscow. A growing number of Russians now use Chinese e-commerce sites for affordable products from China.[Photo/Xinhua]
Chinese online shoppers, who spent an estimated 4 trillion yuan ($608.8 billion) in 2015, are not the only demographic smitten by China's e-commerce sector.
Logistics companies in the world's second-biggest economy say there are more bargain hunters from Russia flocking to China's online shopping sites to take advantage of the vast selection of low-cost Chinese goods.
Express to Russian, a privately owned courier in Northeast China's Heilongjiang province that caters to Russian online shoppers, said its average monthly revenue has surged more than tenfold since it launched in October 2014.
Cui Yong, Express to Russian's general manager, said more Russian consumers are shopping online for their daily needs.
"China's textile products, consumer electronics and handcrafted products are immensely popular among Russian consumers. Growth in cross-border e-commerce has helped more made-in-China products reach potential buyers in Russia," Cui said.
Cross-border shopping is the fastest-growing sector in Russia's e-commerce market. In 2014, its online shoppers placed 47 million orders at international online stores and received 75 million parcels from abroad, almost three times the number of packages received in 2013, according to Data Insight, a Moscow-based research and consultancy firm.
Over the course of 2014, the number of Russian orders for Chinese goods rose from 45 percent to 72 percent of all goods bought online from overseas.
According to Russian Post, the national postal operator, Russians made about 80 million online purchases from platforms outside Russia in 2014, about 80 percent of which came from China.
Cui, 47, said the company's average monthly revenue grew from about 100,000 yuan in 2014 to about 1 million yuan since the second half of 2015 because of the rising popularity of cross-border shopping in Russia.
Launched in 2010, e-commerce giant Alibaba Group Holding Ltd's AliExpress allows shoppers around the world to buy goods at whole sale prices. According to Alibaba, "hundreds of thousands" of packages are sent from China to Russia on a daily basis.
JD.com Inc launched a Russian-language site in June 2015 to tap Russia's cross-border e-commerce market.
But Cui said the task of delivering Chinese goods to Russia, a vast but sparsely populated country, has been a challenge.
Cui said the company partners with post offices and couriers in Russia rather than investing in its own delivery team and warehouses.
"Having a facility in the Suifenhe Comprehensive Bonded Area in Heilongjiang, which shares a border of more than 3,000 kilometers with Russia, is ideal to carry out cross-border shipping. Goods that Russian shoppers purchase online in China are first sent to warehouses in Suifenhe and then delivered to cities across Russia," Cui said.
Cui added that out of his company's 40 employees, eight are based in Russia. The company has partnered with 200 post offices and couriers in 80 cities across Russia.
"With the rapid growth of cross-border online shopping in China, I plan to cooperate with more Russian couriers in 2016, offering a better user experience," he said.
With the rising demand in Russia for made-in-China products, Express to Russian said goods from China are clearing customs in less time. "Now it takes about 10 days to deliver goods from China to the doorsteps of Russian online shoppers. The improvement in logistics is boosting Russian's demands for Chinese products," he said.