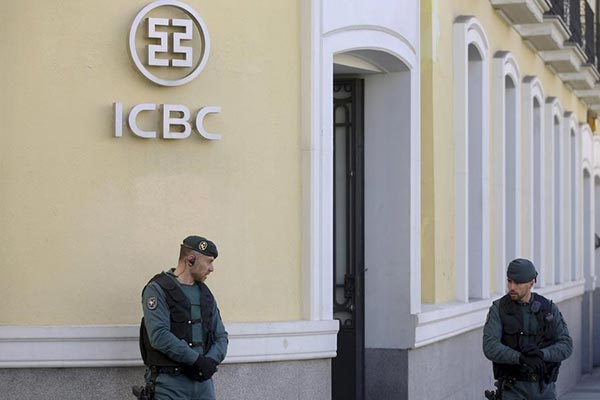 Spanish Civil Guard officers stand in front of the entrance of the headquarters of Industrial and Commercial Bank of China (ICBC) during a raid in Madrid, Spain, February 17, 2016. [Photo/Agencies]
Directors of the Industrial and Commercial Bank of China (Europe) and lawyers are on their way to Madrid, as China's largest State-owned commercial lender is paying close attention to the progress of an investigation by Spanish police, the bank said in statement on Thursday.
The comments came after Spanish media reported that local police searched the bank's Madrid branch on Wednesday and arrested five of its directors to probe suspected money laundering of at least 40 million euros ($44.5 million).
The bank is suspected of allowing funds earned through alleged smuggling, tax fraud and labor exploitation to be transferred "to China in a way that appeared legal", the police said in a statement.
"We have always been sticking to the basic management principles of enforcing anti-money laundering regulations strictly and insisting on legal and compliance management. Our Madrid branch is cooperating actively with the investigation," ICBC said in the statement.