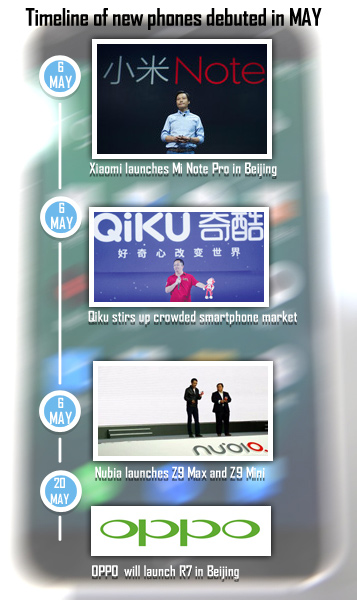 The domestic smartphone industry in China will witness a more competitive market as more upgrade their devices and rivals anticipate ruthless, Darwinian competition.
"The overall growth rate of the market will slow down in the second half of this year," said Antonio Wang, an analyst from market intelligence firm International Data Corporation (IDC). "This year's market demand for smartphones may remain the same as last year," Wang added.
According to Wang, the potential competition arises from two factors: Apple's upgraded products, such as the iPhone 6s and iPhone 6c, may possibly stimulate consumption even as domestic makers start producing new devices, like Huawei's Mate 8. In addition, domestic Internet companies, such as LeTV and Qihoo 360, have also thrown their hats into the smartphone ring.
"Bearing a situation where market growth slows down and white-hot competition heats up in mind, price wars between the competitors are imminent," said Wang.
Statistics from IDC show that China's smartphone sales volume will reach 450 million units. In China's main cities, more and more phone makers are utilizing a variety of marketing strategies to encourage their existing customers to purchase new phones as the market has reached saturation point.
The update cycle of China's smartphones is about 1.8 years, and is shorter in higher tier cities than in the countryside. The level is even higher than some developed countries around the world, IDC told chinadaily.com.cn.
"There have been more than 200 brands on sale in China's market. Apart from a number of well-known brands by Chinese buyers, some of the other brands are selling in a certain area and offer lower prices than before," said Wang.
According to Wang, although new manufacturers and investors are keen on joining the market, the number of brands is gradually decreasing. One of the key reasons behind this is that newcomers are using Internet marketing to capture consumers' attention and the manufacturing costs have been optimized. Most of the major players are reconsidering the competitiveness of making and selling phones.