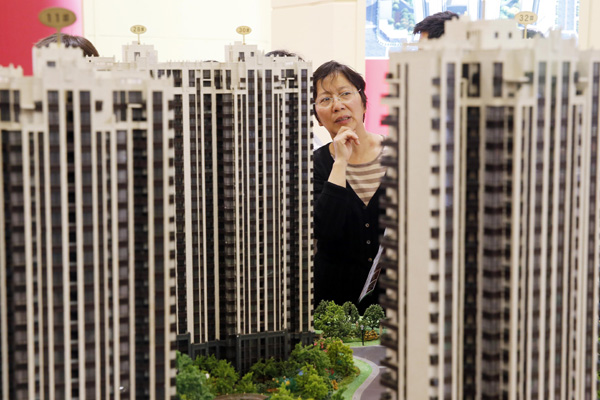 Housing models at a property expo held earlier this month in Shanghai. For some second-tier cities and most third- and fourth-tier cities, falling home prices are likely to continue this year. [Photo/China Daily]

Think tank says that real estate prices face another turbulent year
House prices are in for a divergence this year with first-tier cities looking at strong growth.
A report by China's top government think thank said prosperous second-tier cities will also see price increases. But for some second-tier, and most third- and fourth-tier cities, falling home prices are likely to continue, despite moves to stimulate the real estate market.
Li Yang, vice-president of the Chinese Academy of Social Sciences and a prominent economist who is often consulted by top policymakers, painted a mixed picture when launching the report.
He has described the "correction" in real estate prices since last year as a process of "the tide recedes and the rock emerges".
A loose translation means the housing market is settling into a more normal rhythm after the boom years between 2009 and 2011.
"I visited a lot of small counties across China in recent years," he said. "The situation there is easy to understand. It is pretty clear how many houses were built and how many people bought those houses. We can see the bottom of these markets.
"As I said, this is a process of where the tide recedes and the rock emerges. This led to a sober view," he said.
The real estate downturn started in 2014 and by March, national average home prices had declined 6.9 percent compared to a year earlier, according to the National Bureau of Statistics. New housing starts slumped 18.4 percent during the same period.
But the outlook is now improving in some major markets. Prices of pre-owned homes in first-tier cities climbed 1.55 percent in April compared to March, according to China Real Estate Information System, a tracking service owned by SouFun Holdings Ltd.
Even so, Li said China's housing market has yet to experience a full price cycle similar to those in developed economies. The market did encounter rise and fall since 1998, when the urban housing sector was commercialized, but that did not equal to a cycle, which should include crisis, recession, recover and boom.
"We could say we are witnessing a slump (in prices)," he said. "After that phase, we can say we have experienced a full cycle. Hopefully, a healthier market will then emerge."
Amid last year's downturn, local governments abolished administrative intervention policies. This included the decision to scrap the multiple homes purchase ban.
According to Zhu Zhongyi, vice-president of the China Real Estate Industry Association, this helped the real estate market return to normal state, where market plays a dominant role.
Yet there are still major obstacles ahead. The report by CASS noted that transaction costs of pre-owned homes, such as the 20 percent individual income tax, are still excessively high.