Smartphone vendor says low price, high quality will be winning formula in the world's most competitive market, reports Gao Yuan.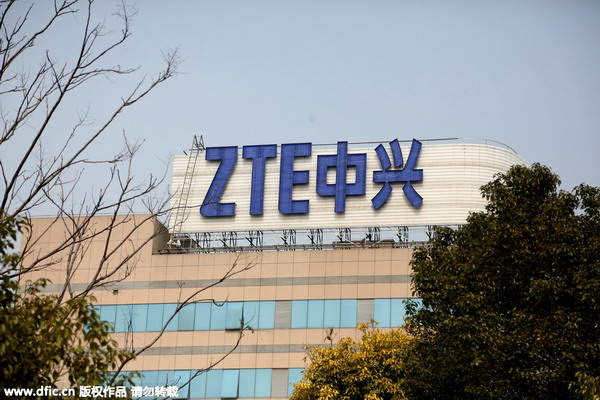 The logo of ZTE Corp is seen in Shanghai, March 2, 2015. [Photo / IC]
Telecom equipment maker ZTE Corp's Senior Vice-President Cheng Lixin holds high hopes for sales in the United States. The industry veteran, who oversees ZTE's North American business, aims for the company to become a top three smartphone vendor in the world's most competitive market within three years.
The goal is considered aggressive even by the standards of many world-famous brands such as Google Inc, Microsoft Corp and Sony Mobile Communications Inc. But according to Cheng, ZTE's innovation strengths, well-executed branding campaigns and "affordable premium" customer strategy will make the target achievable.
"The US is the world's most important (telecom) market. It is also a vibrant place for marketing and handset development," Cheng said. Success in the US will help the Shenzhen-based company explore other markets.
Many Chinese smartphone vendors have chosen emerging markets as their primary targets, but ZTE has been investing heavily in the US in recent years. Now, the company has more than 300 employees and five research centers there, and about 80 percent of the staff were hired locally.
"Only a truly localized company will have a chance to succeed in the US," Cheng said.
ZTE is trying to impress US customers with high-quality, low-price devices.
"Because ZTE is rolling out high-performance handsets at relatively low prices, buyers in the US do not need to pay $500 or even $300 for a smartphone with high performance," Cheng said.
The US was the best-performing overseas market for ZTE last year, according to research firm Strategy Analytics Inc. Shipments of ZTE devices rose in the "high double digits" in 2014, even as competitors' shipments were flat or lower, it said. ZTE had 20 million active users in the US as of Dec 31.
Many of the company's US users were in the pre-paid phone market, where ZTE is the second-largest player by shipments.
Because both pre-paid and contract phones are sold in partnership with carriers in the US, ZTE's deep ties with companies such as AT& T Inc and T-Mobile US Inc have helped the Chinese company sell more devices.
"We always roll out above-standard devices with highly functional features. The carriers trust our research and development capability after working together for more than a decade," Cheng said.
Gene Cao, a senior analyst at industry consultant Forrester Research Inc, said that in the US, where about 95 percent of devices are sold via telecom carriers, a close relationship with local carriers is essential.
ZTE is also teaming up with retailers such as Wal-Mart Stores Inc, Best Buy Co Inc and some online shopping sites to increase sales.
Similar to Samsung Electronics Co Ltd, ZTE provides both low-and high-end devices in the US, where it offers 69 phone models.
Cheng said that letting buyers decide what kind of mobile phone they want to use will help ZTE win customers with different income levels, preferences and cultural backgrounds. And diversified marketing tactics honed in the US are enabling the company to win customers in other places. Cheng said that ZTE's motto is "America, China, world".
Experience in the US, the world's largest developed market, and China, the largest emerging market, will help the company more easily penetrate other parts of the world, according to Cheng.
As one of the world's largest telecom equipment providers, ZTE's research strengths in fourth-generation communications networks also give it an edge in handset sales.
Higher sales of 4G network equipment and smartphones lifted the company's global net profit by 94 percent to 2.63 billion yuan ($423 million) in 2014. In the smartphone sector, the company shipped 48 million devices, and 70 percent of those were sold outside the Chinese mainland.
To lift brand awareness in the US and other overseas markets, the company signed sponsorship deals with the National Basketball Association teams last year. It is now the official smartphone provider for the Texas-based Houston Rockets, New York Knicks and California-based Golden State Warriors.
The carefully selected teams cover the western, middle and eastern parts of the US, ensuring that ZTE's logo is visible for most fans of the sport. The NBA's global fame will also help ZTE in other markets.
"We want to communicate with buyers in ways that they can easily relate to. That is the most efficient way to let the world know our brand," Cheng said.