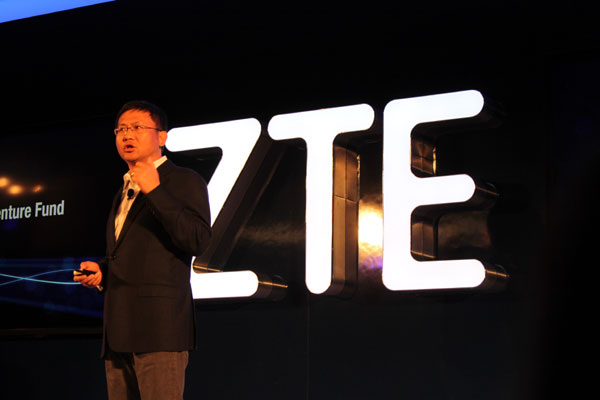 Cheng Lixin, CEO and Chairman of ZTE USA, talks to a packed auditorium on Jan 5 announcing his company's expansion and development plan in the US.[Chang Jun/China Daily]
XI'AN - ZTE Corporation, China's leading telecom equipment producer, opened a new factory in western China on Monday to help it meet ambitious production targets for smart devices including mobile phones and tablet computers.
The factory, in Xi'an City, will become the largest manufacturing base for such terminals in the country's west, expected to churn out 15 million handsets a year and with potential to triple the capacity in five years, the corporation said.
It is hoping the base can generate added value in related industries worth 30 billion yuan ($4.89 billion) and bring about 3,000 jobs in the region.
ZTE Executive Vice President Zeng Xuezhong said it will be significant in expanding capacity and improving quality, as well as propping up regional economic growth.
Regional authorities are hoping that the move, along with investment from other electronics giants, will help Xi'an develop a complete industrial chain for smart mobile phones, marking an emerging trend of industries transferring from prosperous eastern region to the less-developed west.
The number of smart terminals shipped by ZTE in 2014 surpassed 100 million, including 48 million cellphones. Zeng said the corporation aims to up the figure to 60 million this year.