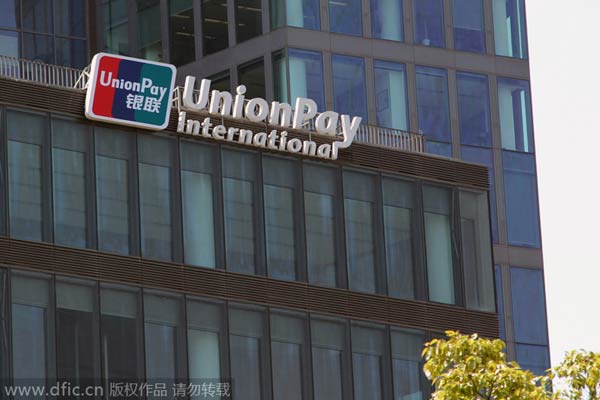 A logo of UnionPay is pictured on its headquarters building in Shanghai, May 6, 2014. [Photo/IC]
BEIJING - China's largest bank card brand, UnionPay has expanded in overseas markets especially in Central Asia, riding on the "belt and road" initiatives.
UnionPay International said on Monday that it is improving its services and networks in Central Asian countries to support this national strategy.
UnionPay debit and credit cards are now accepted by nearly 60 percent of ATMs and more than 40 percent of POS terminals in Kazakhstan after the first card was issued last November. These numbers will likely continue to rise in 2015.
Kazakhstan is not the only country where UnionPay is doing well. the company is making inroads in ten Southeast Asian countries including Singapore, Malaysia and Thailand. UnionPay cards are also accepted by 70 percent of ATMs and nearly 90 percent of POS terminals in Pakistan. Its cards are now accepted in more than 150 countries and regions.
UnionPay International's expansion supports China's initiatives to build a Silk Road economic belt and the 21st century maritime Silk Road.
The belt is proposed along the ancient trade route, which stretches northwest from China through Central Asia, the Middle East and on to Europe, while the new maritime route will run to Southeast Asia.