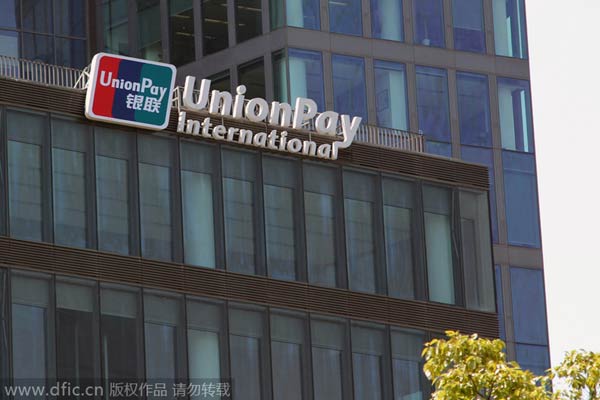 A logo of UnionPay is pictured on its headquarters building in Shanghai, May 6, 2014. [Photo/IC]
UnionPay International announced on Wednesday that it will offer discounts to UnionPay cardholders during visits to certain world-renowned tourist destinations.
From now until the end of February, cardholders will enjoy discounts of up to 15 percent if they use UnionPay cards to pay for hotels, dining, shopping, sightseeing at tourist attractions, cultural visits and entertainment in 20 global tourist cities, including Sydney, Paris and Rome.
Cardholders will also receive discounts of up to 10 percent at 10 resort islands, such as Phuket, Bali and the Maldives.
UnionPay International is a subsidiary focusing on the global business of China UnionPay, the national bank card association. Its card acceptance network has extended to more than 140 countries and regions.
The company is also encouraging Chinese people to visit and spend more- in Sydney, and the Australian state of New South Wales, by launching a cooperative partnership campaign with Destination NSW, the state government's tourism agency.
Cardholders from China who buy flights to Sydney and New South Wales will be offered rebates. Further incentives will be offered to cardholders who use their cards to shop during their visits.
According to the China National Tourism Administration, 822,700 outbound Chinese tourists chose Australia as their destination in 2013, a 12.8 percent year-on-year increase.
Sandra Chipchase, CEO of Destination NSW, said at the launch of the campaign in Sydney on Wednesday, "Through this campaign and the work underway to encourage UnionPay International customers to use their cards while visiting Sydney and regional New South Wales, we hope to gain an even larger share of the inbound Chinese visitor market arrivals and expenditure, further cementing New South Wales' position as the number one tourism destination in Australia."
As more and more tourists worldwide are traveling independently and discovering cities and countries in depth, UnionPay International has included many culture and entertainment vendors in its discount program to enrich the cardholders' travel experience. It has also launched a tourist map of selected local merchants who offer distinctive features and services.