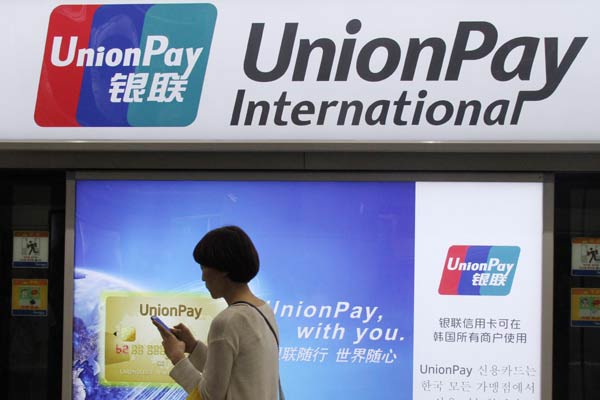 A logo of UnionPay in Seoul, South Korea. The logo is now prominently visible at the round-the-clock fast-fashion retailers of Dongdaemun in Seoul and even in the duty-free stores at the sprawling Changi Airport in Singapore. [Photo / Xinhua]
With its network expanding to more than 140 countries and regions, UnionPay has become a global payment brand with an extremely large cardholder base, said a senior executive.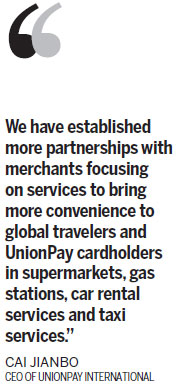 Today's global coverage is the result of its cross-border payment and service system, said Cai Jianbo, CEO of UnionPay International.
"More than 32 million cards have been issued in over 30 countries and regions outside the Chinese mainland, and the numbers have been growing continuously.
"Our vision is to bring tangible benefits to cardholders," says Cai.
UnionPay enables cardholders to use various services at over 13 million merchants and more than 1.1 million automatic teller machines outside the Chinese mainland, according to information from UnionPay International, its global business arm.
With cardholders traveling around the world, UnionPay International launched a series of benefit and privilege programs, accelerating revenue growth to its global partners.
Kim Myung-in, a manager with Lotte Duty-Free in Seoul, said that UnionPay is a virtually a VIP card in shops there.
"Many brands have joined our program, which offers discounts of up to 15 percent to UnionPay cardholders."
Since the beginning of the year, UnionPay International has rolled out global special offers for cardholders that cover the world's top 60 airport duty-free shops, 40 commercial districts and dozens of tourist attractions.
Holders of cards issued overseas can also benefit from China's domestic campaigns in shopping centers and travel destinations.