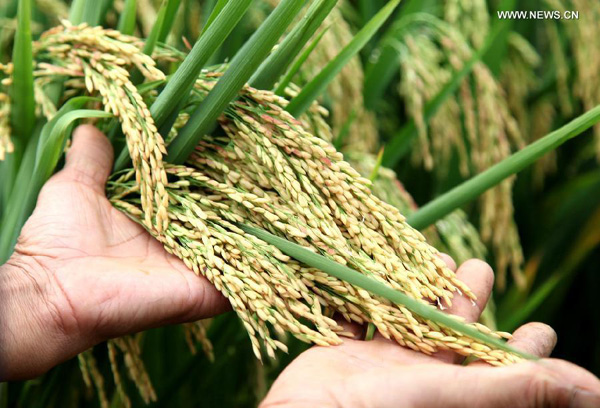 A farmer checks crops in a paddy field in Shaoshui township, Quanzhou county of South China's Guangxi Zhuang autonomous region, Sept 24, 2014. [Photo/Xinhua]
Faced with new challenges and emerging situations, China's agricultural industry needs to drive innovation to expedite reform, an expert from the United States has said.
William Niebur, vice-president of DuPont and DuPont Pioneer North Asia, said that national and provincial administrative policies in agriculture require innovation and should be driven by market forces, because food safety and security - along with the modernization of the agricultural industry - are prerequisites for China's sustainable economic growth and development.
This message followed the Chinese government's release of the annual No 1 Central Document, reinforcing the concept that tackling the "Three Rural Issues" related to farmers, the countryside and agriculture, optimizing grain production and safeguarding farmers' income are the priorities for government policies.
Niebur, who recently visited Bayan county in Heilongjiang province, found all local farmers in a village had agreed to entrust their land to a professional cooperative that manages more than 2,000 hectares of land for other villages.
This type of professional management substantially reduces not only cultivation costs, but also associated risks, said Niebur. This new approach has freed the villagers from having to work the fields and allowed them to enter nearby towns and cities to find work, boosting their incomes.
Niebur said he believes this type of rural transformation is an example of the overall reform required in agriculture. It is based on long-term planning, consistent policies to encourage innovation and a willingness to embrace agricultural modernization. These efforts should be applauded and are necessary for economic progress.
Economic growth in China has recently entered a phase referred to as the "new normal". In this situation, sustainable agricultural development requires modern agricultural policies to promote efficiency, food security, resource conservation and environmental protection.