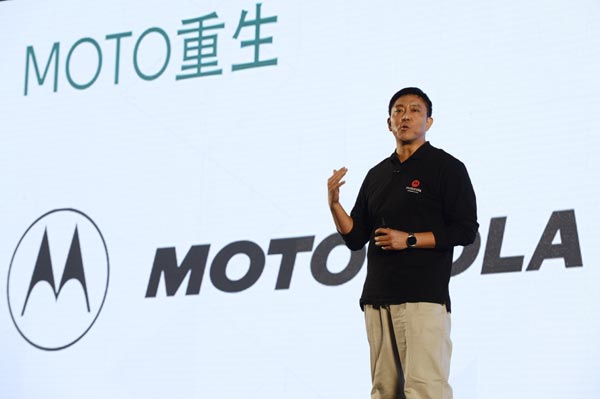 Liu Jun, senior vice-president of Lenovo Group Ltd who heads the Motorola mobility unit, said in Beijing on Jan 26, 2014 that coming back to China and other emerging markets will help Motorola become profitable sooner. [Photo/China Daily]
Lenovo Group Ltd said on Tuesday its quarterly revenue hit $14.1 billion in October-December period, a 31 percent increase year-on-year.
Recently completed mergers of smartphone maker Motorola Mobility and IBM Corp's x86 server unit helped to boost the revenue, it said.
Yang Yuanqing, chairman and CEO of Lenovo, said: "This quarter, we are at the starting line of a new race, but the results show that we have the right strategy, we made the right acquisitions and we executed well globally, so I am confident we are ready to win."
Revenues generated in the North and South America area were $4.3 billion, up 88 percent year-on-year.
The region now contributes 30 percent of the company's worldwide revenue, Lenovo said.
Related story: Motorola back to China market by Gao Yuan, China Daily
Motorola Mobility LLP is saying "Hello Moto" once again to China, three years after abandoning the world's largest smartphone market.
Releasing an array of handsets, and now a Lenovo Group Ltd subsidiary, Motorola said on Monday that coming back to China and other emerging markets will help it become profitable.