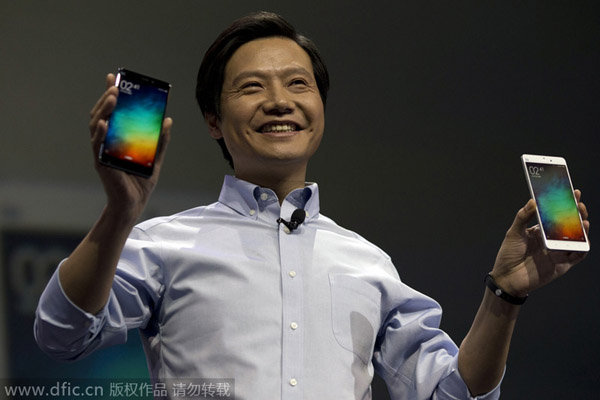 Lei Jun, chairman of Chinese smartphone maker Xiaomi, holds up the latest models of the Xiaomi Note at a press event in Beijing, Thursday, Jan 15, 2015. [Photo/IC]  
Venture capitalists made tremendous strides in the Chinese market, helping drive 2014 investment to a record high, according to Dow Jones VentureSource.
The value of venture capital (VC) in Chinese companies reached $15.5 billion last year, the highest level since 2006, when the agency, which tracks venture-backed companies, started to collect data. It also doubled the 7.3 billion recorded in 2011.
The boom in mobile devices highlights the trend. According to data released by the China Internet Network Information Center in July, mobile Internet has exceeded that of personal computers for the first time. The number of people using mobile online shopping hit 205 million as of last June, up 42 percent from December 2013.
Consumer-related companies led the VC market during the fourth quarter of last year. The top three investments were Xiaomi, the world's third largest smartphone maker, $1.1 billion, DiDi Dache ($700 million) and Kaidi Dache ($600 million).
During the fourth quarter VC investment in Chinese companies totaled $6.8 billion, an almost five-fold increase from a year ago. Deals made in China increased 79 percent to 243, compared to 136 a year ago.
Last year the median VC investment was $9.8 million, higher than that of 2012 and 2013, but still lower than the $10 million of 2011.
"The upturn in the VC market in 2014 is partly due to the relaxation of IPO controls", Benjamin Lavender, chief analyst of Shanghai-based China Market Research Group, was quoted as saying on the Sina Tech website.
There were 61 venture-backed initial public offerings (IPOs) in 2014, compared with 15 in 2013, 100 in 2011 and 141 in 2010. Last year, IPO fundraising totaled $7.2 billion, a three-year high. It was however still lower than that of 2010 and 2011.
The biggest IPO deal was by Huadian Heavy Industries Co Ltd in November, which raised $244.65 billion on the Shanghai Stock Exchange.