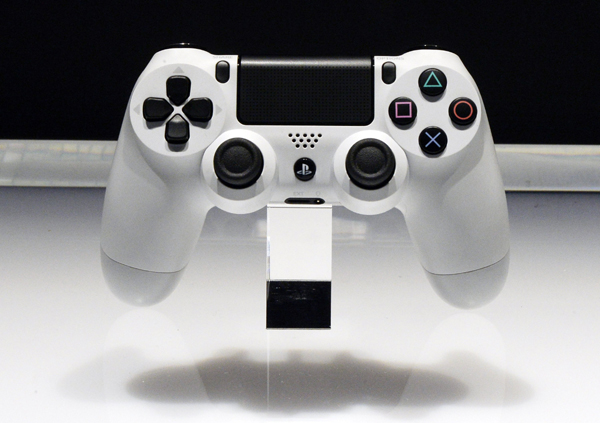 A PlayStation 4 controller is displayed at the 2014 Electronic Entertainment Expo, known as E3, in Los Angeles, California June 11, 2014. [Photo/Agencies]
China's expansive video gaming industry is about to expand even more after a new proposal by the State Council was released on Thursday.
According to the Council's decision, manufacturing and sales of video game-related equipment on the Chinese mainland can carried out throughout the country as long as it has been approved by the Ministry of Culture. Previously, the manufacturing of video game-related equipment such as Microsoft Xbox and Sony PlayStation for sale in the domestic market could only be in the Shanghai Free Trade Zone.
Lisa Hanson, the managing partner of market research firm Niko Partners, said the move to expand manufacturing and sales of game consoles out of the FTZ is a good one.
"It is our understanding that the final word on this (the regulation) will not be released until the end of January at the earliest," said Hanson. "We believe that sales of consoles will increase through legal distribution."
However, Hanson added that the success of foreign consoles such as Xbox One and PlayStation 4 depends on the number of quality games available for the platforms. She said if there aren't enough quality titles approved for the consoles then there may not be as many sales.
Video game consoles, dedicated devices to play video games, were allowed for sale in the country for the first time in 13 years in September 2014, after the establishment of the Shanghai Free Trade Zone in 2012. The first console to be sold in China after the market opened up was Microsoft's Xbox One; it was released on Sept 23, 2014.
Japanese electronics giant Sony has plans to release its' own PlayStation 4 console in China later this year.
Fellow Japanese console maker Nintendo has yet to announce plans.
On top of the "big three", various Chinese companies have been trying to capitalize on the market by creating consoles that run off of Google's Android operating system. Snail Games recently announced their oBox console at the Consumer Electronics Trade Show earlier this month.