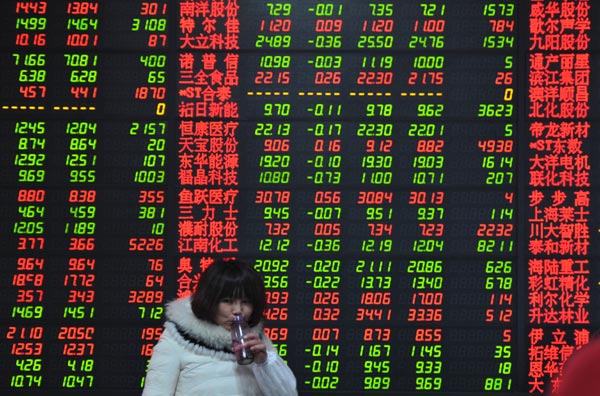 The indexes on Chinese stock exchanges plunged further on Thursday. [Photo/China Daily]
The nation's capital market regulator has launched a new round of inspections into the margin trading business of securities firms in a bid to contain risks in leveraged stock speculation.
Tightened regulations reflect the regulator's fear that risks in the Chinese stock market are building up and could even spill over to the country's banking system as securities firms have borrowed capital from other financial institutions to engage in margin lending.
The inspection will be carried out on 46 brokerages after the regulator punished and warned a slew of securities firms for violating margin trading rules in the initial round of investigation.
Margin trading allows investors to borrow money from their brokers to purchase stocks. The trading leverage amplifies the buying power but it could also result in heavy losses as investors might lose more than they originally invest.
Some market observers said the probe might curb liquidity in the Chinese stock market, which is already under correction pressure.
The Shanghai Composite Index declined 1.31 percent on Thursday, led by stocks of securities firms, banks and insurance companies.
It was a relatively mild correction compared with the 8 percent plunge on Jan 19 after the regulator punished 12 securities firms for illegal conduct in margin trading businesses such as extending expired margin contracts or allowing unqualified clients to open margin accounts.
To calm the market, the China Securities Regulatory Commission said on Wednesday that the latest round of probes is merely a routine inspection and should not be "over interpreted", the Xinhua news agency reported.
The rapid expansion of brokerages' margin trading businesses has been considered a main driver of the bull run of the Chinese stock market with the Shanghai Index surging more than 60 percent in the past six months.
The outstanding value of margin lending by the securities firms has more than tripled from the beginning of last year, reaching 776 billion yuan ($124 billion) as of Wednesday, according to figures from the Shanghai Stock Exchange.
"The probe into the margin trading showed that the regulator wants to deleverage the stock market. It is becoming a normalized supervision and the market should not over react to it," said Dong Dengxin, director of the Finance and Securities Institute at the Wuhan University of Science and Technology.
Dong said the fresh round of investigation will have limited impact on the market and he does not anticipate any dramatic rise or fall in the existing value of margin trading.
Some analysts, however, have turned bearish on the Chinese stock market in the short term due to the growing selling pressure.
But some said the market might recoup the losses soon on investors' anticipation of further monetary easing by the People's Bank of China, the central bank.