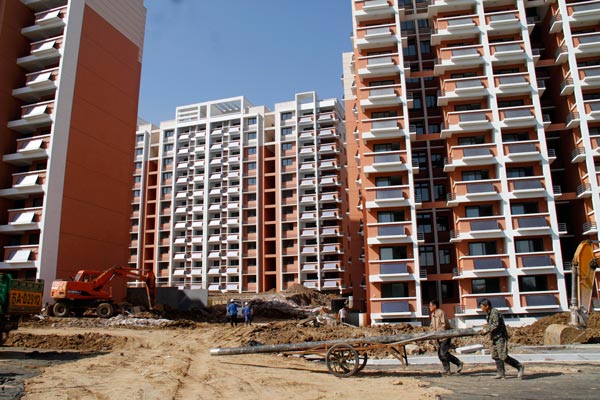 A property construction site in Nanjing, capital of Jiangsu province. [Photo provided to China Daily]
Sunac China Holdings, has agreed to buy a 49.3 percent stake in troubled Chinese property developer Kaisa Group, a report in the financial news magazine Caixin said on Friday, citing an unidentified senior company executive.
The report emerged even as Sunac announced a share trading suspension pending the release of an "announcement containing inside information in relation to the company."
The Caixin report said the firm would buy the stake from the Kwok brothers, who formally controlled the developer, and that the two sides had recently signed an agreement. It did not give a dollar value for the deal.
Earlier this week, financial news website Tencent Finance reported that Sunac, which last month terminated a deal to acquire a majority stake in developer Greentown China Holdings , was in talks to buy part of Kaisa.
Related stories: Kaisa default woes for junk-rated China property borrowers by Agencies
Chinese property developers rated below investment grade could face financing difficulties if Kaisa Group were to default on its debt obligation, Standard & Poor's said on Jan 29.
Kaisa, downgraded to SD or selective default category, missed a deadline to make a $26 million interest payment on its bonds due to mature in 2020.
It has until Feb 9 to pay that coupon or else become the first Chinese real estate firm to default on its offshore debt.
"Developers with already-weak liquidity and high refinancing needs in the next 12 months may face a funding crisis as financing sources could be steered toward more stable players," said Christopher Yip.
Kaisa's debt woes at one point shaved not only two-thirds of the value of its bonds but also affected sentiment in the rest of the sector with bonds rated below investment grade hit the hardest.