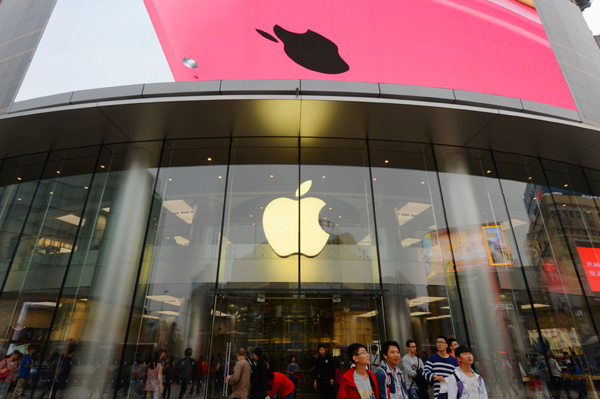 Asia's biggest Apple store situated in Wangfujing, Beijing. [Photo provided to China Daily]
BEIJING - Apple Inc is greatly speeding up market expansion in China by opening five new stores in roughly five weeks.
"We are opening five new stores before the Chinese New Year this year. Four of the stores are in brand new cities for us," Angela Ahrendts, Apple's senior vice president of retail and online stores, told Xinhua in a telephone interview.
The first of the five was in Zhengzhou, capital of central China's Henan province, last Saturday. West Lake Apple Store in Hangzhou, Zhejiang province, near Shanghai, is scheduled to open on January 24.
The Spring Festival, or the Chinese lunar New Year, falls on February 19 this year. It is regarded as the most vibrant shopping season for 1.3 billion Chinese people.
The new stores will bring the number in China to 20, a great leap since the first store opened its doors in Beijing in 2008.
Apple CEO Tim Cook said last October that the company will increase the number of retail outlets in China to 40 within two years.
Ahrendts said Apple is hiring in China. The biggest challenge she sees is keeping up with demand while providing the same global customer service standards. She would not say where the other three other stores will be, but Apple's China website lists store jobs in 15 places, including Anhui, Guizhou, Hebei, Inner Mongolia, Shandong, Shanxi and Tianjin, none of which currently have Apple stores. One store in Shanghai is the busiest globally, receiving more than 25,000 visitors a day.
Apple China has increased its service staff by 75 percent since 2012 with over 3,700 retail employees now in Greater China. Expansion in China, Apple's second largest market, is testament to the Apple's commitment. As Ahrendts put it, "China is a huge and important market for every global company today."
Apple is exploiting the Chinese market in both physical and virtual ways: Online orders were up more than 80 percent in 2014.
"The fastest growing store for us is the Apple Online Store in China," she said.
Almost half of China' s population, 632 million people, are Internet users. Theoretically all of them could be visitors to Apple's online store.
Apple is expected to report its quarterly returns on January 27. Estimates from some institutional investors show that more than one third of total shipments went to China.