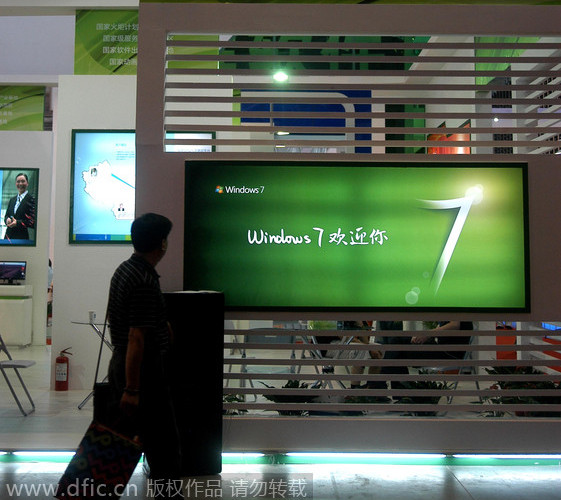 A visitor walks past the stand of Microsoft during an exhibition in Nanjing, East Chinas Jiangsu province, September 4, 2009. [Photo/IC]
Microsoft Corp's decision to cut the Windows 7 operating system loose will leave nine out of 10 Windows devices in China running with little or no official support.
Microsoft on Wednesday suspended "mainstream support" of the product, meaning neither new features nor free help will be given to Windows 7 users. The company will continue to patch security vulnerabilities until 2020.
The United States-based company hopes retiring the 5-year-old operating system, which runs on half of the personal computers globally, will make way for later-generation products including Windows 10, a widely anticipated update that Microsoft pledged will contain many technological leaps.
But for most Chinese users, it will mean almost all the PCs, laptops and a small number of smartphones are running without full original factory support.
According to cnzz.com, an industry statistics site, nearly 57 percent of the Windows-based devices that have connected to the Internet in China are still running Windows XP, a system Microsoft stopped upgrading entirely last year.
With Windows 7, which holds another 38.3 percent of the market, being added to the products without support, 95 percent of the Web-connected Windows devices in China will not get full technical support from Microsoft.
Local cybersecurity companies, including Qihoo 360 Technology Co Ltd and Beijing Rising Information Technology Co Ltd, have provided security updates for Windows XP users in China since Microsoft ditched the product.