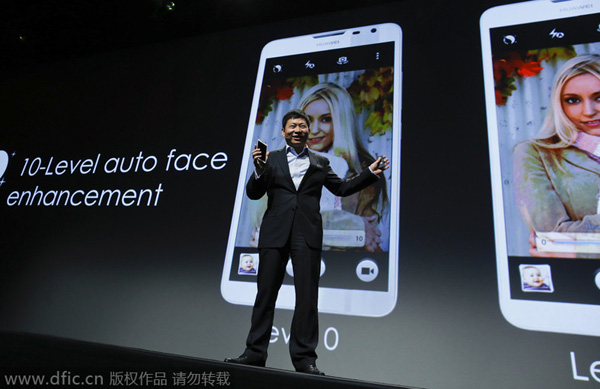 Huawei Consumer Business Group CEO Richard Yu discusses capabilities of the Ascend Mate 2 4G smartphone during the 2014 Consumer Electronics Show in Las Vegas, the United State, on Jan 6, 2014. [Photo/IC]
Chinese technology firm Huawei's revenue increased about 20 percent to at least 287 billion yuan last year, aided by its 75 million smartphone sales, according to the company's preliminary financial statement.
Huawei retains as the world's third largest smartphone vendor, with more than 40 percent sales growth last year, reported China Business News on Wednesday.
China's smartphone sales dropped 8.2 percent to 389 million in 2014, according to a latest report compiled by China Academy of Telecommunication Research. Domestic cell phone brands owned 78.3 percent market share.
Nomura expects the growth rate of China's smartphone market to continue to slow in 2015 due to saturation of the smartphone adoption rate and operators' subsidy cuts, but Chinese brands will sustain 20 to 25 percent growth driven primarily by exports demand.
Cloud computing and 5G research
The innovation focus will shift from Internet consumption to Internet industrialization, said Meng Wanzhou, Chief Finance Officer of Huawei to the News, adding that it's crucial for the company to provide channels to support the shift.
Huawei saw a 27 percent increase in the unit that provides cloud computing and data services to corporate. Revenue from end products grew 32 percent in 2014.
"Huawei will invest $600 million on the research of 5G network technology," said Meng, adding that such technology can be used on Google's self-driving car, which requires data transition per meter.
According to the News, the profit margin for Huawei's main business remained at 12 percent. The company's investment on research and development grew 28 percent last year to at least 39.5 billion yuan.
Future outlook:
10 trends within China's smartphone industry in 2015
China is expected to sell one third of world's smartphones this year, with its sales tripling the US at the second place, according to industry consultancy IDC. However, 2015 will be its first year with a single-digit growth since 2009.
The IDC compiled a list of 10 major trends that will likely theme the country's smartphone industry in 2015.