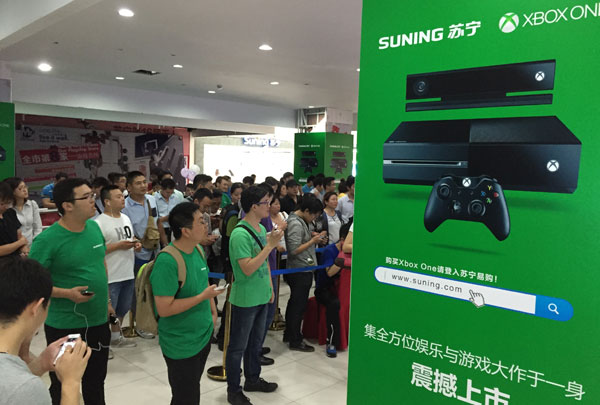 Fans wait for the launch of Microsoft Corp's Xbox One game consoles at a Suning outlet in Shanghai on Sunday evening. [Photo by Liu Xin for China Daily]
The 14-year ban on game consoles in China ended on Monday with the launch of Microsoft Corp's Xbox One, which was also the first anniversary of the China (Shanghai) Pilot Free Trade Zone.
Approval for the production and sales of game consoles has been one of the high-profile developments in the zone.
Zhang Dazhong, chairman of E-Home Entertainment Development Co Ltd — a joint venture between BesTV New Media Co Ltd and Microsoft in the FTZ — said the introduction of game consoles to the Chinese market is "the best gift" to mark the FTZ's first birthday.
Although the launch of the Xbox One in China was delayed for a week, Microsoft said the move is "just the beginning" of its marketing plan in China.
The console is priced at 3,699 yuan ($602) without the Kinect motion detection system and at 4,299 yuan with it.
Consumers can buy the console at more than 4,000 retail outlets in 37 cities in China. Xbox One is also available from online retailers such as JD.com Inc, Gome Electrical Appliance Holding Ltd and Suning Commerce Group Co Ltd at the same prices as at brick-and-mortar stores.
Lan Ye, chief marketing officer of JD, said it is very excited to be one of the first retailers to deliver Xbox Ones to Chinese consumers. "We have high expectations for the Chinese gaming and entertainment market," he said.