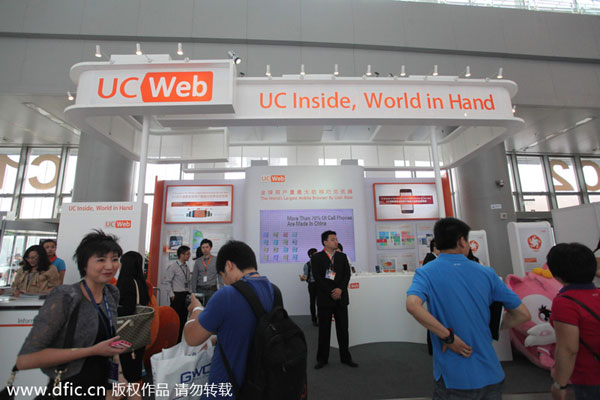 People visit the stand of UCWeb to try out the UC Browser during the Global Mobile Internet Conference 2012 in Beijing, China, May 10, 2012. [Photo/IC]
China's e-commerce conglomerate Alibaba Group Holding Ltd on Wednesday agreed to buy mobile browser company UCWeb Inc. If the deal goes ahead, it will make it China's largest Internet takeover.
In a joint statement, Alibaba said it will acquire the shares of UCWeb it doesn't hold with its own stocks combined with some cash. The takeover is expected to value UCWeb "much more than $1.9 billion", which is the estimated value of app store 91 Wireless when it was bought by Baidu Inc last year.
With the acquisition of UCWeb, Alibaba will form UCWeb Mobile Business Group. Yu Yongfu, chairman and chief executive officer of UCWeb, will be the head of this new unit and join Alibaba Group's strategy committee, the top decision making body of Alibaba.
The deal marks Alibaba's latest push in mobile Internet. In May it teamed up with UCWeb, forming a joint venture in mobile search with the aim to compete with China's search giant Baidu in the mobile Internet era.