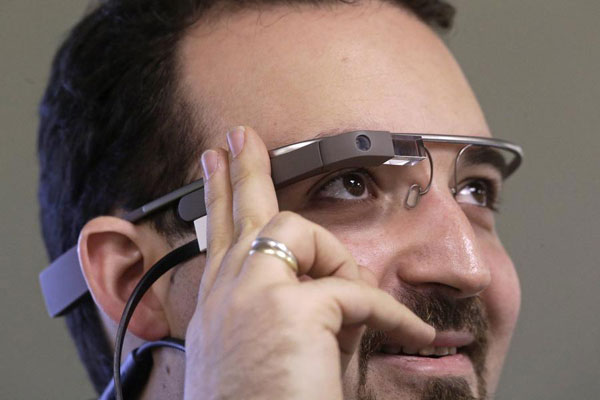 Developer Maximiliano Firtman wears the prototype device Google Glass before a news conference ahead of the 2013 RigaComm event in Riga in this file photo taken Nov 4, 2013.  [Photo/Agencies]
As Google Inc's Android operating system enters China's smartphone market, its second-generation Google Glass device is attracting interest from Chinese consumers days after a brief one-day sale to the general public.
Chinese online sellers are skating into the Glass market in a bid to sell more gadgets in a country where official purchase is not available.
On Taobao, the Chinese version of eBay, nearly 70 sellers are offering authentic Google Glass devices priced between 12,000 yuan ($1,930) and 30,000 yuan.
The official retail price tag was $1,500.
Google Glass is a wearable computer with an optical head-mounted display, with information accessible in a smartphone-like hands-free format.
"Not only do we offer the Glass, we also provide free training, so our customers will quickly master how the product functions and make better usage of it," said Xiao Feng, a Taobao merchant.
A number of online sellers offer paid Chinese language tutorials online. For a few hundred yuan, new Google Glass owners can get an assistant to go over the basics with them.
Selling at 12,999 yuan each, Xiao's virtual boutique has sold nearly 170 smart glasses over the past month, one of the highest on Taobao.
Some of the products were purchased at a discount on April 15, according to Xiao, who refused to disclose the exact amount that was paid.
Zhang Tongtong, another vendor, said the competition is heating up as more shops have opened since the beginning of this year.
"The products are the same, but you have to provide better after-sale services to get buyers' attention," Zhang said, adding that he offers one-week delivery. "But that's not enough. I am returning 200 yuan to buyers after they receive the product."
In addition to the glasses, Zhang's store sells other Google devices that are not for sale on the Chinese mainland. "Last summer, the Google Nexus 5 was very popular with Chinese buyers. I made a fortune off it because I was one of the first to sell the smartphone on Taobao," he said.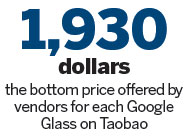 Google has been trying to build a stronger software network before making the Glass widely available.
The company did not reveal how many units have been sold and it is unclear how many are owned by Chinese users.
"I think most of the Chinese who bought Google Glass did it for pure fun," said Wang Song, CEO of a Beijing-based Internet company and owner of two Google Glass devices.
He bought the devices on business trips to the United States as an application developer.
"A lot of features need to be enhanced on the Glass. The second generation is the same as the previous one except a headset was added," Wang noted.