Google shares break $1,000 barrier
Updated: 2013-10-19 17:31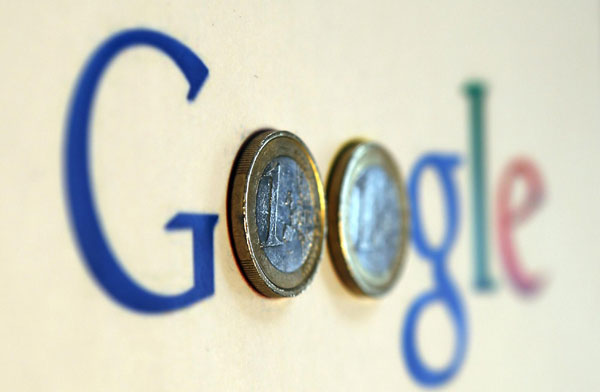 An illustration picture shows a Google logo with two one
Eu
ro coins, taken in Munich in this Jan 15, 2013 file photograph. [Photo/Agencies] 
Google Inc shares jumped past $1,000 on Friday as investors bet on the Internet company's continued dominance of the mobile and video advertising businesses despite aggressive competition from Facebook Inc and Yahoo Inc.
Shares of the world's No 1 search company rose more than 14 percent to an all-time high of $1,015.46, swelling its market value by about $40 billion.
That vaulted Google past Microsoft Corp and Berkshire Hathaway Inc in capitalization and brought it to No 3 among US companies, behind only Apple Inc and Exxon Mobil Corp.
Google, whose Android is the world's most-used mobile software and YouTube is the most popular video-streaming service, on Thursday reported a 23 percent jump in net revenue from its Internet business. Advertising volume soared 26 percent - the highest rate of growth in the past year - and more than made up for an 8 percent slide in ad prices.
But given concerns about how US companies can increase revenue in an uncertain global economy, those numbers suggested Google was firing on all cylinders except for its perennially money-losing Motorola unit, analysts said.
"Google's ownership of the Android ecosystem makes Google like the house, in Vegas terms," said Stifel Nicolaus analyst Jordan Rohan. "The success of Android, which becomes more and more popular every day, is starting to really add up, and Google is collecting small tolls along the way."
Rohan said accelerating revenue growth outside the United States and the UK was impressive, particularly in South Korea and Japan. "That could go on a while," he said.
At least 16 brokerages raised their price targets on the stock to between $880 and $1,220. The shares were up 13.7 percent, or $121.82, at $1010.62 on Nasdaq at mid-afternoon.
"We view solid paid clicks growth to be a good indicator of demand, driven by the continued shift to mobile," JPMorgan analysts said. They had expected 21.5 percent growth in ad volumes.
Beware...
While much of Wall Street raised their price targets to above $1,000, Brian Wieser of Pivotal Research Group kept his at $880 and rated Google a hold.
Some analysts warn that spending on ambitious projects with as-yet unproven commercial potential - self-driving cars and wearable Google Glass being among them - may erode margins. Wieser estimated that, excluding traffic acquisition costs, gross margins slipped to 34.9 percent in the third quarter from 37.2 percent in the previous three months.