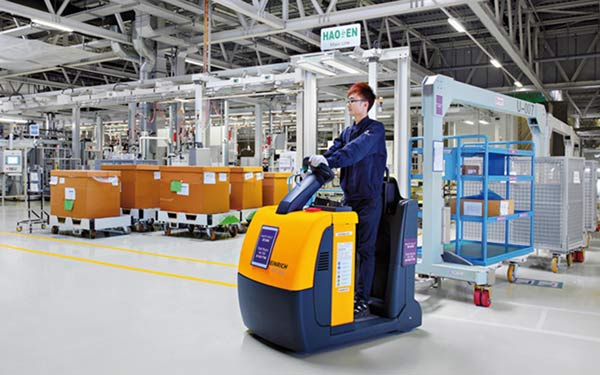 Production underway at the new BMW Brilliance engine plant. [Photo/China Daily]
The new engine plant is located in close proximity to both BMW Brilliance's vehicle plants. This leads to an optimized production flow.
"From the start of casting till the engine is assembled in the car, it takes half as many days as it takes in Germany, for example. That's a big time saving," said Heiss.
When an assembly plant, such as the Tiexi plant, is in need of an engine, it can be collected in just 83 minutes.
Global consultancy firm KPMG's 17th Global Automotive Executive Survey released on Jan 18 expects BMW to be a groundbreaking innovator over the next five years, and to be the most innovative carmaker until 2025.
The German company is also seen as a leader in electric mobility, as it has been developing a strong subbrand i, with the introduction of the i3 and i8 models.
"A new high voltage battery center is now being constructed within the new engine plant. In the future, it will provide batteries for the plug-in hybrid cars of BMW Brilliance," said Heiss.
"So far, a total of 1.3 million BMW have been made in China. From the first day of initiating local production, we are committed to quality," he added.
With China the biggest auto market, BMW Brilliance is going to expand the local line-up from current three to six models in the near future.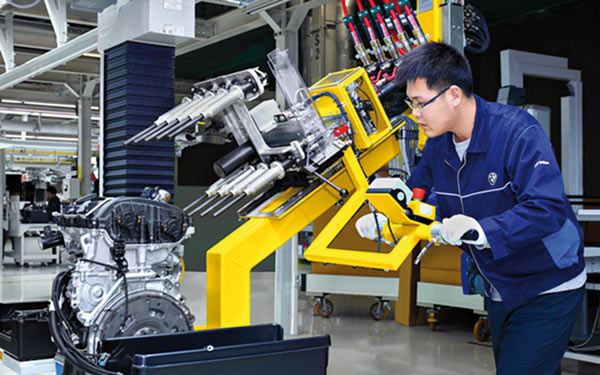 Production underway at the new BMW Brilliance engine plant. [Photo/China Daily]