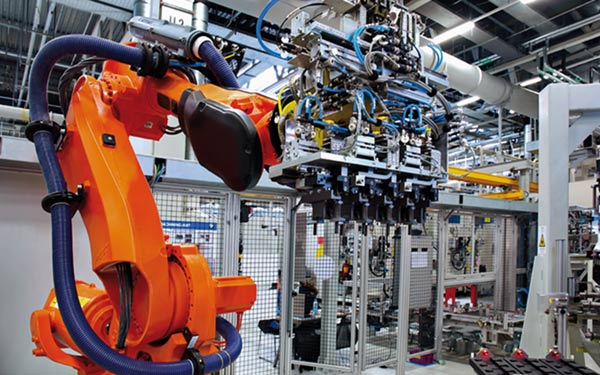 Production underway at the new BMW Brilliance engine plant. [Photo/China Daily]
Technology innovations
"We have taken the latest foundry technology from the Landshut plant, and developed it further. It is now more secure, and has no heat emissions," Zipse said.
For instance, the liquid aluminum used for the crankcase is now transported underground in the new plant, instead of transported by forklift as in Landshut plant in Germany.
The foundry at the new engine plant is the first in China to use an environmentally friendly water-soluble inorganic binder, resulting in almost zero emissions in the binding process.
"It is also a sustainable new engine plant," added Zipse. "For instance, to save energy, all the heat is collected and used for winter heating."
The foundry boasts the world's most advanced smelter, which can reduce the energy consumption by 20 percent, and 90 percent of the used sand can be recycled for the sand core process; which means 30 tons of sand can be recycled per day.
Thanks to the latest technologies applied in the new engine plant, it is a green production benchmark for the group.
Another innovative technology patented by the BMW Group is the wire arc spraying applied to the production of cast-aluminum crankcases, which produces less internal friction in the engine and reduced engine weight resulting in reduced fuel consumption.
In the machining workshop, production processes are highly automated and self-correcting machinery ensures each component is machined to exact specifications.
"We are manufacturing to extreme tolerances. The accuracy required is one-fourth the thickness of a human hair," said Heiss.
The machining workshop also innovatively recycles and reuses process water, and discharges no waste water at all.
In the assembly workshop, the production lines are highly flexible, meaning different engines can be made at the same time. To ensure zero-defect production, all engines are 100 percent cold tested and leak tested. Every single technological and test parameter is recorded and traceable for each engine; and the data will be saved for 25 years.
More importantly, the production lines are highly ergonomic. The latest conveyor system allows operators to adjust the height to the most comfortable position for them.