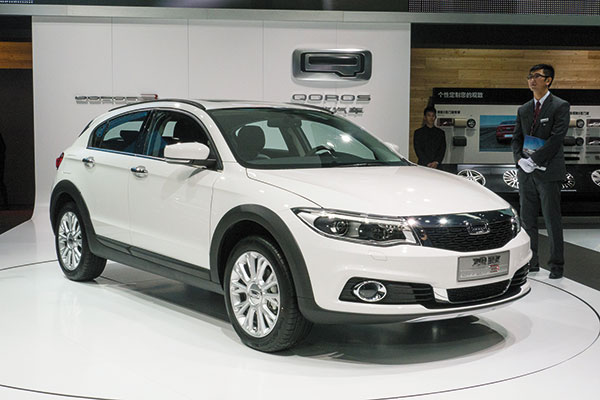 Qoros is reshaping its sales system to attempt to reach its ambitious sales target for 2015. [Photo provided to China Daily]
Qoros is planning to renew its image and reposition itself in the Chinese market, according to a source close to the young automaker.
The joint venture between China's Chery Automobile and Israel Corp will release the strategy for its new branding and core values in August, the source said, without offering further details.
Analysts speculate that the new strategy will be designed to create a better public image both physically and mentally as it has long been accused of distancing itself, unwittingly or not, from potential car buyers.
Aloofness is frequently blamed for its sluggish sales performance despite acclaim for the design and quality of its growing portfolio.
A new strategy would mark another move to improve people's affinity for the brand after Qoros started calling itself a Chinese brand in April, rather than the international label it previously used.
Such efforts are helping boost sales. Qoros sold 1,681 units in May, a 79 percent surge from April.
But it remains a formidable task to reach its sales target of 35,000 units in 2015. The brand sold less than 7,000 units in 2014.
Things will become even better in the second half of the year, said Qoros sales chief Sun Xiaodong.
Sun is reshaping the company's sales system. Qoros had about 80 dealerships at the end of 2014 and plans to double that number in 2015.
"Three of our dealers sold more than 100 units each. That is a boost to the confidence of our sales network," Sun said.
Sun believes that e-commerce is the direction sales is heading and he inked a deal with online car seller yiche.com to sell one of the automaker's three products.