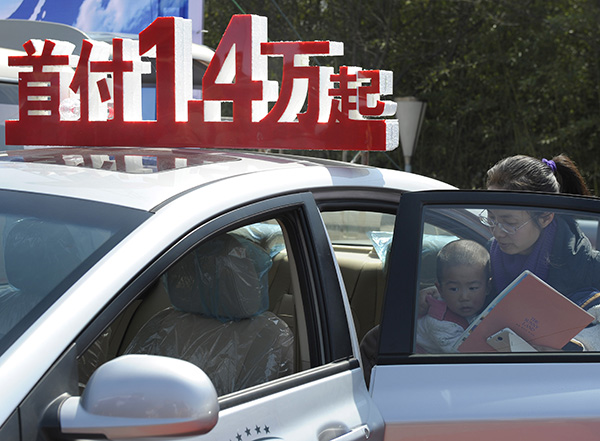 A car dealer advertises preferential car loans to attract buyers in Nanjing. [Photo provided to China Daily]
1980s generation likely to lead borrowing boom
China's car loan market will almost double in the next three years despite challenges, according to industry experts.
"We expect the average loan penetration rate to hit 34 percent for volume brands and 45 percent for more expensive imported ones by 2018," said Mei Songlin, vice president and managing director of China Operations for J.D. Power Asia Pacific.
Mei said people who take out loans to buy cars account for 18 percent of China's passenger car market, while the figure stands at 61 percent in the United States.
Yang Xu, a senior auto finance researcher at the same consulting firm, said the percentage of people who use car loans in China grew more than 30 percent year-on-year from 2008 to 2014.
Based on the trend of the past years, Yang estimated car loans in China will hit 670 billion yuan ($109.8 billion) by the end of 2015 and exceeded 1 trillion yuan by 2020.
Accounting firm Deloitte is even more optimistic and expects the market value to reach 1.8 trillion yuan by the end of this decade.
Analysts said the growing popularity of loan-based consumption is mainly due to the fact that the post-1980s generation has become the mainstay of the car consumer market.
A recent Volkswagen and Ipsos report based on a survey of 3,511 people who purchased cars using loans in 19 Chinese cities shows that 58 percent were born in the 1980s, followed by 30 percent in the 1970s.
The report said Chinese consumers in previous generations used to stay away from debt, with the idea of "out of debt, out of danger" deeply rooted in their minds, explaining why loans of any form were not popular in the country.
According to the report, things are now changing as credit cards and housing loans have become part of daily life for those born in the 1980s.