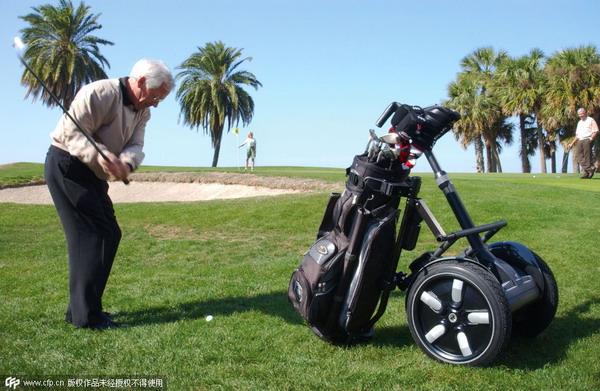 A Segway Golf Transporter is pictured near a golf player in the United States. The US-based short-distance personal electric vehicle maker is now a Chinese company thanks to smartphone maker Xiaomi Corp and its co-founder Lei Jun.  [Photo / CFP]
Segway Inc, the United States-based short-distance personal electric vehicle maker, is now a Chinese company thanks to smartphone maker Xiaomi Corp and its co-founder Lei Jun.
Segway's Chinese rival, Ninebot Inc backed by Xiaomi, said on Wednesday it is acquiring the New Hampshire-based brand for an undisclosed amount. The US company will become a fully owned subsidiary of Ninebot, and the two companies will continue to serve the market through their own brands and products, according to the terms of the agreement.
Gao Lufeng, founder and chief executive of Ninebot, said the buyout enables the company to incorporate a series of new technologies into its future products.
The acquisition will also make Ninebot the top patent holder in the personal electric vehicle market, according to Gao. The 15-year-old Segway has more than 400 patents around the world and it attempted to fence off Ninebot and other Chinese vendors in the US using these intellectual properties.
In November, the US International Trade Commission started an investigation into Ninebot and seven other Chinese manufacturers for allegedly having infringed on the patents and copyrights owned by Segway, after the US company filed a joint complaint with another New Hampshire-based tech firm.
The Segway acquisition will not only help Ninebot avoid legal problems in the US, but also enable the company to gain an edge over other competitors.
Rod Keller, president of Segway, said: "After we join Ninebot, the company will remain focused on innovation, technology and product development. We will also look to build up our global presence."
Ninebot said it has raised $80 million from Xiaomi, Sequoia Capital and two other venture capital firms.
Lei Jun, CEO and co-founder of Xiaomi, said Ninebot has a critical role to play in the ecosystem centered on Xiaomi smartphones. He said the user data on Ninebot and Segway machines can be uploaded to other Xiaomi devices for travel route personalization and other value-added services.
"However, the first step for Ninebot is to fully integrate the two companies' human resources, which could be a very tough task," Lei said.