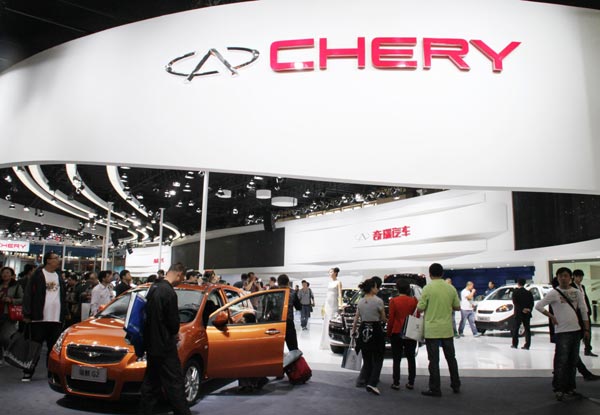 Once popular domestic brands are pulling back from big cities that have plate limitations and strict emission controls. Photos provided to China Daily
New car limits and rising consumer expectations put brakes on sales
Chery's first dealership in Beijing and once its top-selling outlet nationally has closed in the capital city's
famous Yayuncun automobile market.
It was the first Chery dealership to reach landmark annual sales of 100 cars - then later 1,000 vehicles - in the early days of China's nascent auto market.
Yet the glory times for the Zhongruichen dealership are over. Construction workers are now renovating the former outlet to sell imported pickups.
Yan Jinghui, vice-general manager of the Yayuncun market, told China Business News that the dealership closed due to Chery's lack of popular models and stricter emission standards in Beijing adopted last year.
It is also a reflection of declining sales by domestic brands after Beijing implemented its lottery system to limit new car purchases, he said.
"Prior to that, sales of domestic brands accounted for about 15 percent of the total in Yayuncun market," he said.
"Now the proportion is between 7 and 8 percent."
According to statistics provided by the Yayuncun market, 42,100 new cars were sold in Beijing in May, a 8.7 percent decrease from a year earlier and down 12.8 percent from the previous month.
Some domestic car brand dealers have also had a hard time in Shanghai and Guangzhou due to limits on car license registration and higher consumer expectations.
Guangzhou began to limit car purchases in July 2012. Buyers in the city are now inclined to choose more expensive vehicles, a trend hurting low-end domestic brands.