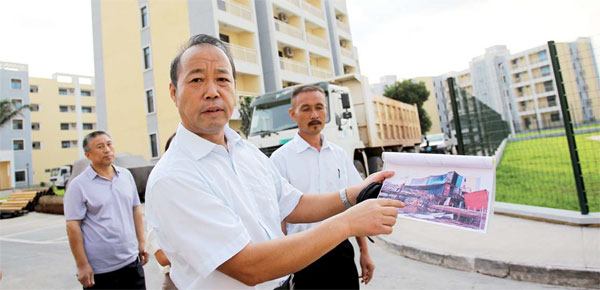 Nie Tieli of Beijing Construction Engineering Group's Congo operations shows a photo of the devastating effect of an ammunition depot explosion in Brazzaville two years ago. He is standing in front of the apartment block built by his company that was the only structure in the vicinity to withstand the blast. Zhang Wei / China Daily
Years of proving itself with country's government and people led to contract for 30-story towers, company says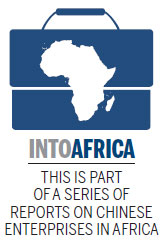 A Chinese company has won the contract to build a pair of high-rise buildings in Brazzaville that will become the tallest in the Republic of Congo.
The proposed 30-floor, twin-tower buildings on the shore of the Congo River are the latest project in a string of high-profile government development contracts that have been awarded to Beijing Construction Engineering Group.
Nie Tieli, general manager for the company's Congo operations, confirmed BCEG had beat off bids from several competitors to secure the skyline-altering development in the Congolese capital.
He says the 120-meter twin towers will become "an iconic landmark" and that the newly won contract represents the growing trust regional leaders are placing in Chinese construction projects.
"Construction will start later this year," Nie says. "We expect building will take about 40 months. They will be the tallest buildings in Congo."
News of the latest win for the Chinese company in the increasingly competitive African construction market came as the president of the Republic of Congo, Denis Sassou Nguesso, wrapped up a state visit to China.
Nie says the deal was signed on June 12, during the official visit, with a senior official from Congo's infrastructure ministry.
While Nie was coy about revealing how much the contract is worth, it is understood that the project will top several hundreds of millions of dollars in value. One of the towers has been set aside for use as a luxury hotel, while the other will primarily house office suites. The project is being financed by a commercial, low-interest loan from the Export-Import Bank of China.
Nie was careful to stress that his company's gains in Congo have not been made overnight and are the product of more than a decade of hard work and relationship building.