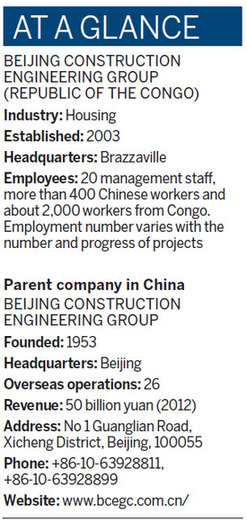 BCEG, which set up its Brazzaville headquarters in 2003, has built or is working on projects in the Congo worth a total of more than $600 million, most of which are residential housing blocks or government buildings.
These include the 6,000-square-meter, five-story, Brazzaville local government head office completed in 2010 and the 3,500 sq m ministry of justice headquarters built in 2009.
The Congo's first five-star hotel, the Alima Palace in Oyo on the Alima River, was also built by BCEG.
But what turned out to be the biggest lift for the company's reputation was born out of a disaster in which many Congolese and Chinese died.
In March 2012, a military ammunition depot exploded in downtown Brazzaville, killing more than 260 local people and leveling entire buildings in a blast radius that stretched for almost 3 km.
When the dust settled, one building complex a mere 50 meters away from the blast had remained structurally intact, sheltering a large local community living behind it from the worst of the explosion.
It was an almost complete, 200-apartment compound being built by BCEG. Six Chinese workers were killed in the blast. Another 31 were seriously injured.
"This building acted as a shield to protect the people living on the other side," Nie says. "The president thanked us. The people of Congo thanked us.
"After the explosion, we have a very good reputation here."
"It stood up for a reason. There are no earthquakes here in Congo, but we made the design as if there could be, to a Chinese standard that can withstand a magnitude 8 quake."
Government employees soon will move into the complex, which was repaired and refurbished by 130 Chinese and 580 Congolese workers in the wake of the blast.
"After the explosion, the government gave us a contract to build another 300 apartments," Nie says. "This is living proof of the quality of our company. It changed the way the government and people of Congo think about Chinese construction."