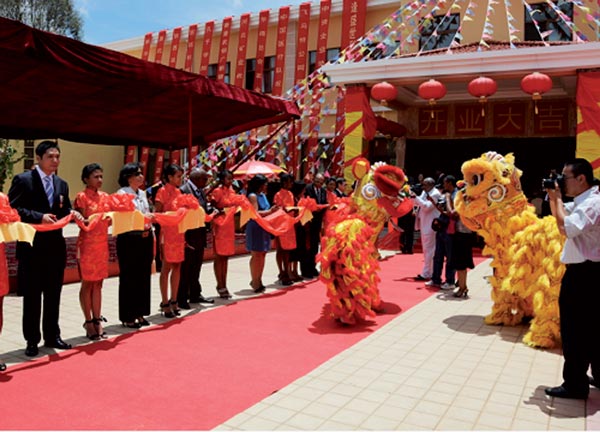 Opening ceremony of a Sogecoa hotel in Madagascar. Photos provided to China Daily
As others fail, Anhui company survives test of character in African countries
When a foreigner gets into a taxi in Maputo and asks to be taken to "the Chinese supermarket", the driver is likely to know immediately where to go, so well-known have the supermarket and a nearby Chinese hotel become in the
Mozambican capital.
The two properties belong to the Chinese company Sogecoa. Even as many Chinese construction companies complain about the slim pickings from overseas projects at the moment, Sogecoa is raking in money by diversifying.
It is the overseas trademark of Anhui Foreign Economic Construction Co, a company based in Hefei, Anhui province. It was registered in Mozambique in 1999 as a construction company to carry out Chinese government aid projects.
Zhou Jie, general manager of Sogecoa Mozambique, says the operation is a product of the going-global wave of the 1990s.
"By then, the government had appointed 11 provinces to go to 11 African countries to build consulting centers for Chinese investors, and Anhui was chosen for Mozambique.
"So the provincial government established a company and sent a group of people to Mozambique to 'guide' other Chinese people's investments."
Each of the 11 companies was given a 20-million-yuan ($3.2-million) loan to build its consulting center, Sogecoa being among them.
The center Sogecoa built in Maputo was designed for Chinese investors: each floor has three suites, and each suite has three bedrooms and a living room. It was intended to be rented to Chinese companies as working and living space.
But by then far fewer Chinese investors were coming to Africa, and all the 11 consulting centers were left idle after building was complete.