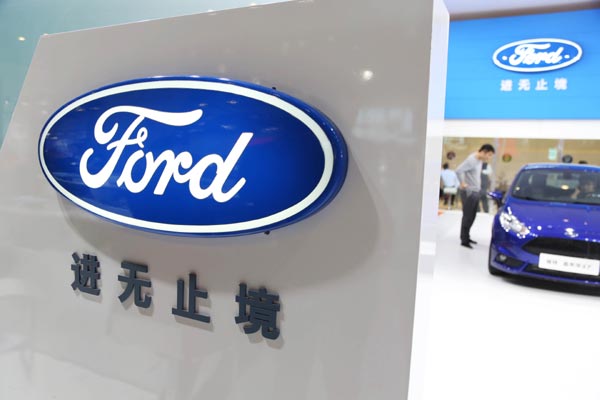 Some 75 percent of Changan Ford dealerships are in small cities and even townships. [China Daily]

It was probably Allan Mulally's final public appearance in China as president and CEO of Ford Motor Co when he attended a ceremony in Shanghai on June 19 to mark the opening of 88 Ford dealerships across the nation.
Dealers whistled and gave a standing ovation as Mullaly went onstage, the same way the 68-year-old was treated when he announced last month in Detroit that he would retire on July 1.
Many industry insiders said he deserves the accolades for his role in preventing Ford from filing for bankruptcy in the US and then boosting its rapid development in China.
Statistics show that the Chongqing-based joint venture Changan Ford sold more than 330,000 vehicles in the first five months this year, a 43 percent rise from the same period in 2013.
Among them, more than 67,000 vehicles were sold in May, making the joint venture the country's sixth-most popular passenger vehicle producer.
The recent massive wave of new dealerships brings the total number of outlets to 750, some 75 percent of them located in the country's small cities and even townships.
They will help Changan Ford reach more buyers and offer better after-sale services to car owners in China, said the joint venture's president and CEO Marin Burela. He added the figure is expected to reach 800 by the end of the year.
Many attributed the joint venture's performance at least in part to Mulally's emphasis on the Chinese market after his brave moves in the US and Europe keep Ford healthy amid the most severe economic crisis to hit the West since the Great Depression.
Among his many moves were relocating Ford's Asia-Pacific headquarters from Bangkok to Shanghai, introducing more models into the Chinese market and enlarging the joint venture's production capacity.
Since the so-called 1515 plan to roll out 15 models by 2015 was first proposed in 2011, Changan Ford has released five models for Chinese customers, with the Focus the clear favorite in China.
The outgoing president announced the operation of a transmission plant in Chongqing on June 18, one day before the latest dealership openings.