BARCELONA, Spain - China Aerospace Science and Industry Corporation, one of the nation's leading State-owned enterprises, has been putting major effort into developing "smart city" solutions for Chinese cities in recent years.
The company has undertaken a "smart city design" for the Chinese cities of Wuhan, Hangzhou, Shenyang and Shaoxing, and over 20 other cities have contacted CASIC and shown interest in a similar design, according to Wang Jian, vice director of the Civil Industry Developing Dept, The Second Academy of the CASIC.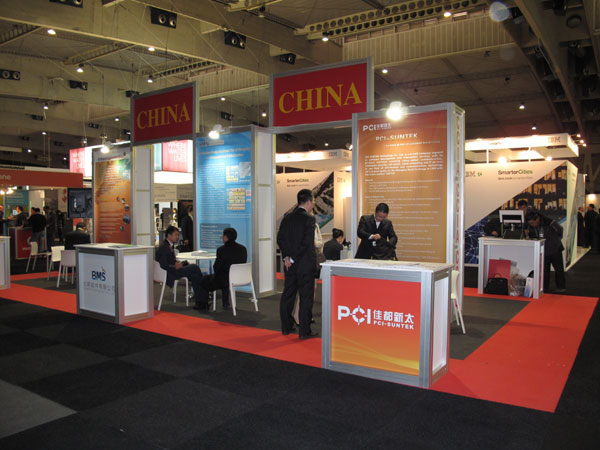 The Chinese booth at the 2012 Smart City Expo World Congress at the Gran Via Venue in Barcelona Spain, Nov 13, 2012. The Chinese delegation was organized by the China Communications Industry Association, and consists of enterprises, officials and researchers.  
Wang, who is attending the 2012 Smart City Expo World Congress in Barcelona, Spain, told chinadaily.com.cn that the company also has projects in Pakistan and Myanmar. It also hopes to become the supplier of the security system for the Brazil Olympics.
The company, boasting a strong tradition in the military industry, has also been successful after entering the civil sector. It has offered security systems for big events including the 2008 Beijing Olympic Games and the 2010 Shanghai World Expo.
CASIC later realized that cities also have the need for security systems, prompting the company to look at the larger picture – a smart city. Factors including traffic, medical care and infrastructure were considered for a "smart city" that makes urban life more convenient.
In 2011, the city of Wuhan, capital of central China's Hubei province, launched an open tender to companies globally for a smart city solution, and CASIC won the bid.
"Our role is more than the technology supplier, we are more like the bridge that links what the government wants and the city's emotions," said Guo Huiming, vice general manager of Beijing Aerospace Changfeng Science Technology Industry Group Co Ltd of CASIC, explaining their winning secret. "We stand on the point of the government and help them find out what they really want."
"In our opinion, a smart city consists of three dimensions: first, citizens will lead a more comfortable and harmonious life; second, enterprises will enjoy a better business environment and third the governance of the city will be more efficient,"Wang said.
Efforts to make cities more suitable for living has never ceased, but a "smart city" is a comparatively new concept, emerging only after great progress in information technologies such as the Internet of Things and cloud computing.
There have been 154 Chinese cities which have expressed a plan to "go smart," according to a survey by the China Communications Industry Association under the Ministry of Industry and Information Technology.
China is in the process of great urbanization and the market potential for developing a smart city is huge, said Yu Jie, vice secretary general of the Internet of Things under the CCIA.