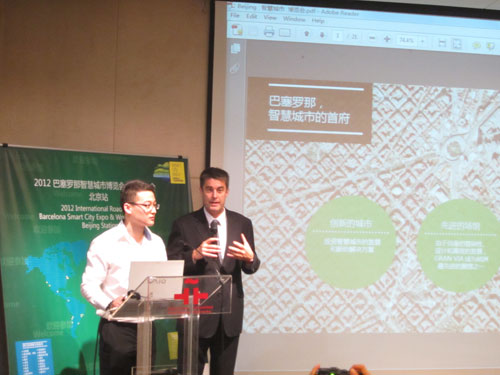 Lluis Gomez (R), exhibition director with Fira Barcelona, introduces SmartCity Expo & World Congress to the audience in Beijing May 10. [Photo/chinadaily.com.cn]
SmartCity Expo & World Congress invites Chinese local governments and companies to participants in its event for this year, said its organizer in a news briefing in Beijing May 10.
"China is developing very fast and will be our important base," said Lluis Gomez, exhibition director with Fira Barcelona, the organizer.
The four day event will run from Nov 13 to 15 in Barcelona, a leading tourism destination in Spain. Public administrators, researchers, and entrepreneurs will discuss environmentally-friendly economic growth during the event.
The expo displays cities' "smart" moves on implementing innovative solutions to improve their services, and offering a better quality of life to their citizens. The congress will cover various topics including urban planning, ICT infrastructure, governance and funding, and do some case studies.
A banquet supported by Barcelona municipal government will be held to award cities and companies who contribute to smart city development.
Wang Yanjing, deputy director of China Communications Industry Association, believes the event provides opportunities for Chinese participants to communicate with foreign cities and companies, to learn from each other, and to display their achievements in building "smart cities".
Wang regrates that China's involvement was not enough in last year's event with just a handful of participants and inadequate preparations.
"I really want to see more Chinese faces during the event. Actually, Chinese cities have unique experience to share with foreign counterparts," said Wang.
Last year's event attracted representatives from 55 city governments, 118 companies and 6,160 professional attendants.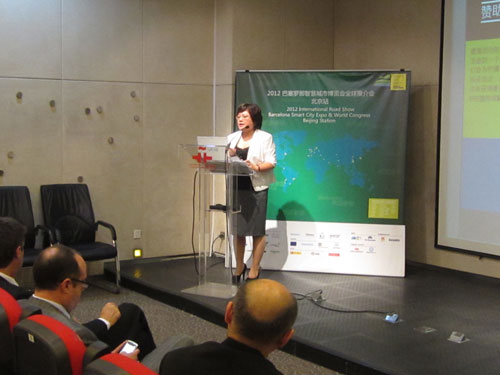 Wang Yanjing, deputy director of China Communications Industry Association, makes a speech during the news briefing of the SmartCity Expo & World Congress in Beijing, May 10. [Photo/chinadaily.com.cn]