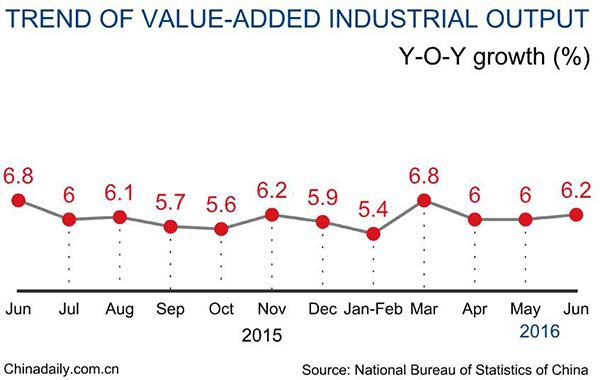 BEIJING - Growth of China's industrial output picked up in June mainly thanks to strong performance in the high-tech and equipment manufacturing sectors, official data showed Friday.
Industrial output grew 6.2 percent year on year in June, up from 6.0 percent growth in April and May, the National Bureau of Statistics (NBS) announced.
Industrial output, officially called industrial value added, is used to measure the activity of designated large enterprises with annual turnover of at least 20 million yuan ($3.22 million).
Month on month, industrial output gained 0.47 percent in June.
After more than a decade of double-digit growth, annual industrial growth slowed to 8.3 percent in 2014 and 6.1 percent in 2015.
The upbeat reading for industrial output was among a series of economic data released by the NBS, pointing to more signs of stabilizing.
China's gross domestic product for the second quarter and the first half of 2016 both grew by 6.7 percent, the same as the first quarter, NBS data showed.
In the first half of the year, industrial output grew 6.0 percent year on year, higher than the 5.8-percent growth in the first quarter.
In addition to the faster growth, the structure of China's industry is also improving, with output in energy-intensive and low-end sectors stagnating or even declining.
However, industrial output for high-tech equipment manufacturing sectors jumped 10.2 percent and 8.1 percent, respectively, much faster than overall growth, NBS data showed.
The two sectors contributed 12.1 percent and 32.6 percent of China's total industrial output in the first half of the year, NBS said.