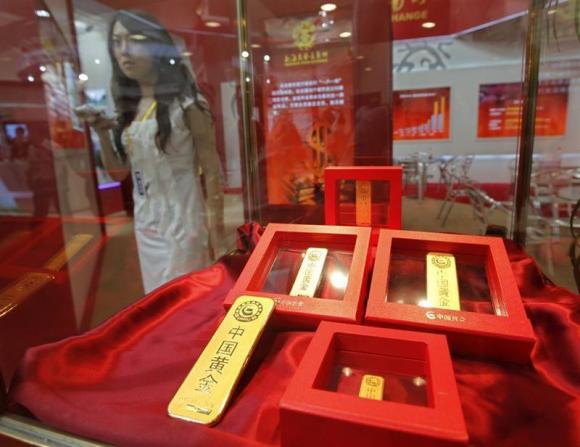 A Shanghai Gold Exchange employee stands beside gold bars displayed at the China International Exhibition on Financial Banking Technology & Equipment in Beijing Sep 9, 2010. [Photo/Agencies]
SHANGHAI - China's gold consumption declined by nearly 20 percent in the first half of 2014, ending the robust growth of last year, showed data released by the China Gold Association on Wednesday.
China consumed 569.45 tons of gold in the first half. Consumption for jewelry increased by 11 percent while consumption for bars fell by 62 percent, according to the association.
During the period, China produced 211 tons of gold, up 9 percent year on year, it said.
China's gold consumption soared 41.36 percent year on year to 1,176.4 tonnes in 2013 due to surging demand for gold jewelry and bars.
In the second quarter of 2013, the international gold price dropped to around $1,400 per ounce from the $1,600 level, prompting Chinese consumers to go on a shopping spree.