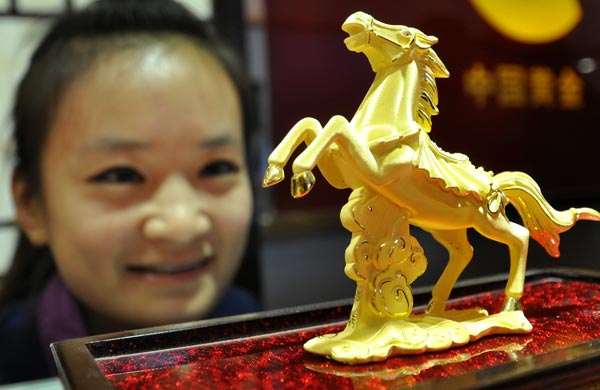 A gold statue made to commemorate Year of the Horse (starting as of Jan 31, 2014) on display at a jewelry shop in Handan, Hebei province. China's demand for gold jewelry jumped 29 percent in the third quarter of this year amid price fluctuations for the precious metal. Hao Qunying / For China Daily
BEIJING
- China overtook India as the world's largest gold consumer for the first time in 2013, official data showed.
China's gold consumption hit 1,176 tons in 2013, up 41.4 percent, as declining gold prices enticed buying, according to the Ministry of Information and Technology (MIIT).
The precious metal fell 26 percent last year from $1,670 to $1,243 per ounce.
Last year was the 7th consecutive year that China was the world's No.1 gold producer and production rose 6.2 percent to reach 428 tons, nearly 15 percent of the world's total.
Time to buy China stocks, say market analysts