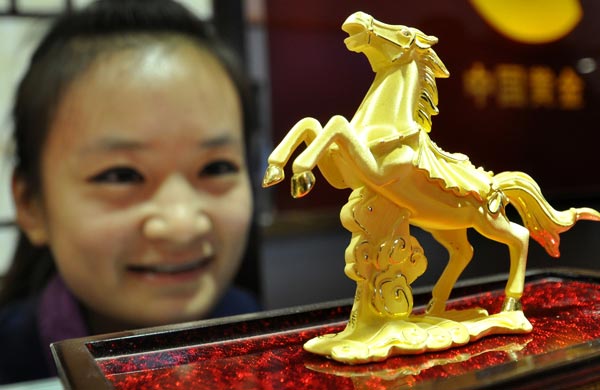 A gold statue made to commemorate Year of the Horse (starting as of Jan 31, 2014) on display at a jewelry shop in Handan, Hebei province. [Hao Qunying / For China Daily]
BEIJING
- China's gold consumption surpassed the 1,000-ton mark last year as domestic demand for jewelry and bars surged despite the lackluster global market.
Consumption soared 41.36 percent year on year to 1,176.4 tons in 2013, nearly triple the amount of its total domestic gold production, data released by China Gold Association (CGA) showed on Monday.
The figure is likely to mean that China will take the place of India as the world's largest gold consumer, under the backdrop that shrinking gold prices and concerns that the Federal Reserve might withdraw its quantitative easing stimulus had dampened market sentiments last year.
The marked increase was mainly attributed to the country's surging demand for gold jewelry and bars, which increased 42.52 percent and 56.57 percent year on year to 716.5 tons and 375.73 tons respectively.
In the second quarter of 2013, the international gold price dropped to around $1,400 per ounce from the $1,600 level, prompting Chinese consumers to go on a shopping spree.
The frenzied purchases nearly exhausted the gold inventory of China's jewelers and coined the word "dama" referring to Chinese middle-aged bargain-hunting women, the main purchasers.
Chinese "dama" contributed greatly to the increase in 2013, which was much higher than the around 10-percent growth in 2012.
However, China's interest in gold was contrary to the international market, as the price of gold plunged to below $1,200 per ounce by the end of 2013, dubbed as the cost line of gold production.
The increase of gold consumption may slow this year because of weak market outlook, Beijing Times quoted Xiao Lei, a gold market analyst, as saying on Tuesday.
Nevertheless, analysts believe sales of gold bars and jewelry would keep rising in the next three to five years boosted by the increasing income of Chinese citizens, according to the report.
Data from CGA also showed that consumption of gold coins, often bought for collection and gifts, dropped 1.07 percent year on year to 25.03 tons, as the country capped central and local governments' budgets and continued with its anti-corruption campaign.
China produced 428.16 tons of gold in 2013, up 6.23 percent year on year and making it the world's largest producer for the seventh straight year, data from the association showed.
China's central bank announced on Monday to keep the country's gold reserve at 1,054 tons, flat for the fifth straight year.