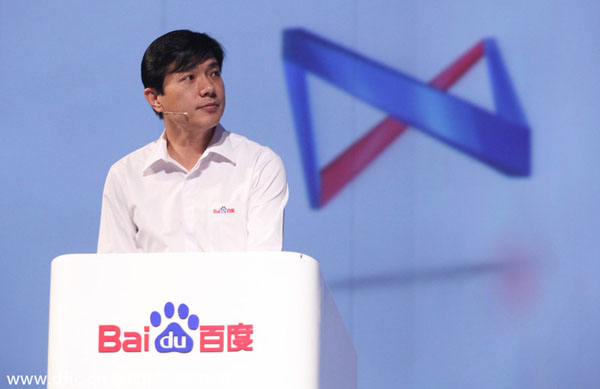 Li Yanhong, Chief Executive Officer of Baidu Inc, is seen at the Baidu Technology Innovation Conference at China World Hotel in Beijing, Sep 2, 2010.[Photo/IC]
Chinese President Xi Jinping and Brazilian President Dilma Rousseff attended the of launch of Baidu's Portuguese search engine at the presidential palace in Brasília, Brazil, on July 17, 2014.
The two presidents pressed a computer button to officially start the new search engine. Baidu CEO Robin Li inputted the first two key words "Brasil China" to the search engine and it showed "the 40th anniversary of Sino-Brazil diplomatic relations".
A Baidu's technician explained that the Portuguese search service was supported by advanced artificial intelligence and mass data storage, integrating with other Baidu products such as Hao123 (a direct-industry web guide), Spark Explorer and Baidu Antivirus.
Although it is not the first time that Baidu has launched non-Chinese search engine, it is the first time that Baidu has published the "highest-level" one, representing a new step to "Going outside" of Chinese Internet technology, some insiders said.
Besides Portuguese search engine in Brazil, Baidu has also launched Arabic one (baidu.com.eg) in Egypt and Thai (baidu.co.th) in Thailand.
According to data from Securities Daily, Baidu's stock prices closed at $197.72 (an increase of 3.42 percent), refreshing the record on the first trading day (July 21) after the launch of Portuguese search engine.
Brazil a bridgehead
Before the official launch of the new search engine, Li and Clelio Campolina Diniz, minister of Science, Technology and Innovation in Brazil, signed an agreement on Baidu building the world's top-level research and development center in Brazil in three years.
Baidu would actively study the development and innovation of Internet, train technology talents, and communicate with both sides to boost a healthy Internet environment and a creative, professional and competitive Internet market in Brazil.
Brazil is the largest economic carrier in Latin America and has the fifth largest Internet market in the world. According to statistics from Securities Daily, half (100 million) of Brazil's total population had Internet access at the end of 2013. With Brazilians having 1.4 mobile phones on average, mobile Internet is also taking off.
Although Internet in Brazil developed rapidly, but there is a shortage in research and talent. Baidu's launch of Portuguese search engine has been regarded as a "timely help" by Brazil's IT industry.
Cooperation and competition
In July 2012, Baidu and Singapore Agency for Science, Technology and Research founded Baidu-I²RResearchCentre to study and develop languages in Southeast Asia.
In May 2014, Baidu officially established a development and research center in Silicon Valley. They recruited top scientists globally to start a technological competition with world's IT giants, including Google, IBM, Microsoft, and Facebook. The research center plans to recruit 150–200 IT elites by the end of 2015. And Li has set aside $500 million to support the research center for the next five years.
The Internet industry, representing one of new technology industries, is booming in China recent years. Chinese online users and mobile Internet users capture the first place in the world. Both Internet technologies and products are eligible for "going out".