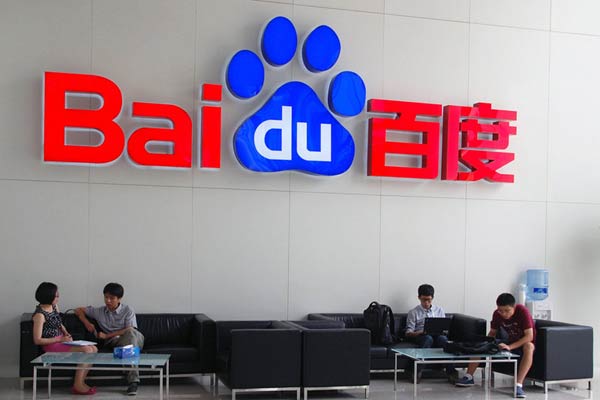 Employees sit in the lobby of the headquarters of Chinese search engine Naidu in Beijing, China, May 22, 2014. [Photo/IC]
The financial services branch of Baidu on Tuesday in Shanghai launched an A-share index, the first financial investment tool to survey the A-share market based on big data, signaling the Internet giant's entrance into the sector.
The CSI Baidu Baifa Strategy 100 Index was jointly introduced by Baidu, China Securities Index Co Ltd and GF Fund Management Co Ltd, according to the tool's prospectus.
The tool will help investors choose which stocks to sell and which to buy based on an analysis of price changes.
Analysts believe this latest move is a way for Baidu to establish its position in the Internet wealth management market and fill the gap between sales channels and Internet technology applications.
Guan Youqing, an analyst with Minsheng Securities Co Ltd, said the CSI Baifa 100 has crossed the boundary between the conventional roles of financial institutions and Internet companies.
In the past, financial institutions usually served as product developers, while Internet companies helped generate sales channels. The Baifa index tool helps to synergize the functions, according to Guan.
The tool utilizes Internet big-data technology to compile the A-share market index, developing a new investment measure based on quantitative analysis, the prospectus said.
"Baidu has established several big-data centers across China and will invest some 10 billion yuan ($1.6 billion) in the next few years into big-data center operation and development," said Li Mingyuan, vice-president of Baidu.
In November 2013, Baidu introduced its online wealth management platform Baifa to the fiercely competitive online wealth management market.
"Baidu may take advantage of its big-data technologies to pilot wealth management products and tools to guide investment," said Chen Xiaosheng, general manager of the research team of Shenyin & Wanguo Securities Co Ltd.
Analysts said that creative financial investment tools offered by Internet technology companies may put pressure on traditional financial institutions, including banks and wealth management firms, to boost their services to customers.
Industrial Bank Co Ltd said it will join Baidu in developing and selling wealth management products related to CSI Baifa 100.