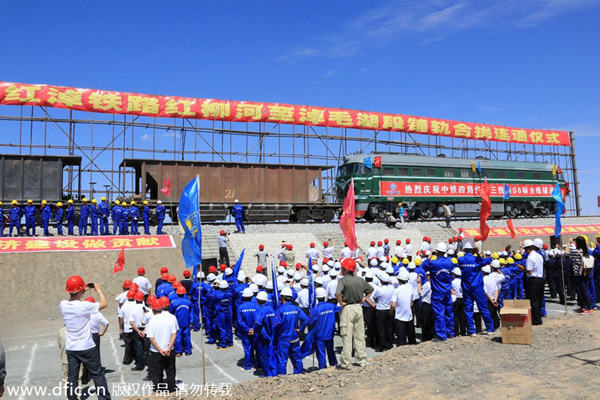 A train runs at the completed Hong (Hongliuhe) Nao (Naomaohu) San (Santanghu) railway in Hari Yiwu county, Northwest China's Xinjiang Uygur autonomous region, July 2, 2014. [Photo/IC]
URUMQI - Track-laying on the Hongliuhe-Naomaohu Railway, one of the largest privately funded rail projects in China, was just completed in early July, but insiders have already begun to worry about its future.
The 435-km-long cargo line, with Xinjiang Guanghui Industry Investment Group Co Ltd as a major investor, aims to make transporting coal from resource-rich Xinjiang Uygur autonomous region to the booming eastern provinces easier.
Guanghui, the largest private energy company in Xinjiang with 109 billion yuan ($17.7 billion) in 2013 sales revenue, is considered the most capable player to fund the local railway in the far western region.
Along with two other private investors, Guanghui will borrow 7.868 billion yuan, or 72 percent of the railway's total investment, to ensure the region's first private railway can be put into operation next year.
However, without adequate support from the central government, the massive investment is likely to suffer losses and negatively impact the regional economy, said Li Jie, transportation department head of the Xinjiang regional government's development and reform commission, the region's top planning agency.
Past failures
Railways are a strategic resource in China and their construction and operation have been monopolized by the central government, leading to huge debts and forcing the government to reform its financing model.
China began to explore the use of private capital in railways back in 2005, when the State Council issued a statement easing investment controls on state-monopolized infrastructure.
But early experiments were not always successful. China's first private railway, the 75 km long Luoding-Cenxi Railway, which linked Guangdong province and Guangxi Zhuang autonomous region, was abandoned after construction began in 2006 due to financing problems.
Another railway, the 93.5 km long Balgantai-Illgen railway in central Xinjiang, had planned investment of 4.2 billion yuan and was largely funded by a private company from neighboring Qinghai province. It kicked off construction last year but was suspended as a guaranty bank quit the project this year for fear of losses, according to Li.
Challenges ahead
So far the central government has no specific plan on preferential policies for privately funded railways, which has stirred worries among industry insiders.
As the railway industry has a high demand for capital, few private companies are capable of funding projects, said Wang Mengshu, a railway expert at the Chinese Academy of Engineering, adding that the government should declare a clear scheme for profit distribution to attract private capital.
Without preferential policies on power tariffs and loans to put privately funded railways on equal footing with the national railway operator, China Railway Corporation, the chance of success is slim, Li told Xinhua on Wednesday.
Economic returns for private rail are uncertain, as operation remains under the leadership of the state-owned railway administration, which sets freight rates and power tariffs, according to Li.
Since Guanghui has no bargaining power at present, if freight rates or tariffs are set too high, Guanghui's investment will be in trouble, Li said.